Shrimp Remoulade with Avocado
Rich and creamy, nothing blends crisp, fresh cooked shrimp with avocado like a good, classic remoulade sauce. Cool and refreshing, yet somewhat rich and decadent, this appetizer is a terrific starter for that light summer meal as well as your most hearty fall menu. Or enjoy it alone as a lunch entree. Whatever you do, don't forget to make extra shrimp to nibble on for a quick snack, right out of the fridge!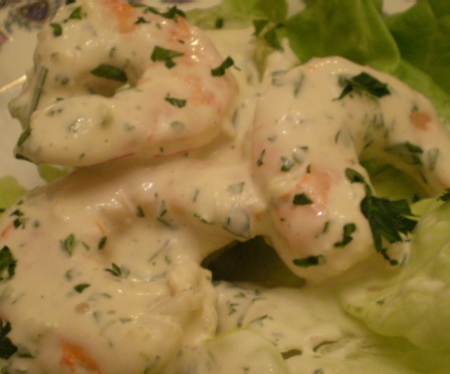 Shrimp Remoulade with Avocado
***Shrimp***
4 quarts water
2 tb salt
8 whole allspice berries
3 cloves garlic, mashed
10 whole peppercorns
2 pounds medium shell-on shrimp, raw
***Sauce***
1 cup real mayonnaise
2 tb Dijon mustard
1/2 tsp balsamic vinegar
1/2 tsp fresh lemon juice
1 tsp bottled hot sauce
4 tb minced parsley
2 tb minced celery
1 tb capers, rinsed and dried
1 1/2 ts fresh tarragon, chopped
OR
1/2 ts dried tarragon
1/2 tsp coarse salt
1/4 tsp freshly ground pepper
1 pinch cayenne pepper
***Salad***
3 ripe, large avocados
1 lemon, juice of
12 leaves butter lettuce, rinsed and dried
2 tb minced parsley
Paprika
Directions:
For the shrimp: Place water, salt, allspice, garlic and peppercorns in a medium stock pot. Bring to a boil and add shrimp. Cook for three minutes, or until shrimp turn pink. Drain and rinse with cold water. When cool enough to handle, peel and devein. Refrigerate.
To make the sauce, combine mayonnaise with all other ingredients. Mix well.
Toss shrimp with remoulade sauce and refrigerate for at least one hour, overnight, or until ready to serve.
To make salad and serve: Halve avocados, peel, and sprinkle with lemon juice. Arrange two lettuce leaves on each individual plate and place an avocado half on lettuce bed. Spoon shrimp over avocados and lettuce, drizzling additional sauce over all. Sprinkle with parsley and paprika. Serve immediately.
Serves 6 as an appetizer.