Black Garlic Chicken
This flavorful roasted chicken benefits from the best of the Asian condiment shelf: umami-packed soy and oyster sauces, sweet hoisin and honey, and a dash of sesame oil for a nutty note. Both regular and fermented black garlic really punch up the flavor profile; be sure to save the delicious pan juices to spoon over steamed rice!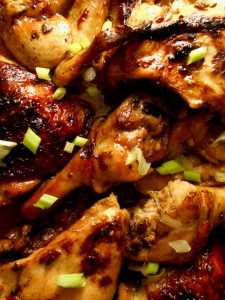 Black Garlic Chicken
By Gary Gee
Serves 4
1 whole chicken, about 4-5 pounds, cut up and patted dry (or use 4-5 pounds bone-in chicken parts)
Coarse salt
Freshly ground black pepper
1 Tablespoon vegetable oil
3 cloves garlic, mashed and chopped
3 cloves black garlic, mashed and chopped
2 Tablespoons light soy sauce
2 Tablespoons oyster sauce
1 Tablespoon sesame oil
1 Tablespoon honey
1 Tablespoon hoisin sauce
½ teaspoon Aleppo pepper
2 green onions, chopped, for garnish
Preheat oven to 375°.
In a large, ovenproof casserole dish, arrange chicken pieces. Season chicken pieces liberally with salt and pepper, tossing to evenly coat. Set aside.
In a medium bowl, whisk together vegetable oil, regular and black garlic, soy sauce, oyster sauce, sesame oil, honey, hoisin sauce, and Aleppo pepper. Pour over chicken pieces and toss to coat well.
Bake in preheated oven for 20 minutes. Raise heat to broil at 450°. Broil until chicken is browned in places (take care not to burn), about 10 minutes. Baste with some of the pan juices, turn and broil until other side is browned, about 10 more minutes. Reduce heat to 325° and bake until chicken is cooked through, about 20 minutes more, basting at least once more.
Remove chicken to platter. Defat pan juices and check seasonings, adding more salt, sauces or honey as needed. Pour over chicken. Garnish with chopped green onions if desired and serve immediately.