Oyster Dressing
Each Thanksgiving and Christmas, our family would be treated to, among many fine dishes, dad's dressing. Now, this would be no ordinary dressing. This was a rich, full-bodied, pan of savory goodness that literally was a meal in itself. Originally created to use up leftover yeast rolls from our restaurant, dad would toss together whatever ingredients were around during the season: turkey, ham, giblets, shrimp, oysters, sausage, you name it. This year, I was tasked with giving dad a break and creating the dressing for Thanksgiving. This isn't the same as his, but it's pretty close!
Oyster Dressing
Serves/makes 6-8
2 cups raw oysters, drained, liquor reserved
12 cups day old white dinner rolls or French bread, cut into 1-inch cubes, more as needed
4 Tb peanut oil, divided use
4 Tb unsalted butter, divided use
1 medium yellow onion, medium dice
1 cup celery, medium dice
Coarse salt
Freshly ground black pepper
Pinch brown sugar
3 cloves garlic, minced
1 cup sliced crimini mushrooms
2 bay leaves
½ tsp smoked paprika
½ tsp dried thyme
¼ tsp marjoram
¼ tsp savory
¼ tsp dill weed
1 cup chopped, cooked turkey meat
1 cup chopped, cooked smoked ham
1 cup turkey or chicken stock, more as needed
1 cup turkey or brown gravy, more as needed
1/3 cup chopped flat leaf parsley, plus more for garnish
1/3 cup chopped green onions
2 eggs, beaten
¼ cup toasted pine nuts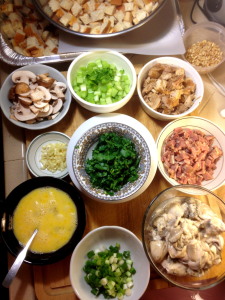 Preheat oven to 325°. Butter a 3 to 3 ½ quart shallow casserole dish.
Rinse oysters with cold water; drain. If oysters are large, cut in half, or even thirds, to obtain 1" pieces. Set aside.
Spread bread cubes out on large sheet pans and toast in oven, about 15 to 20 minutes. Let cool, then transfer to a large bowl. Increase heat to 350°.
In a large skillet or Dutch oven, heat half the oil and half the butter over medium-high heat. Add onions and celery. Sprinkle with salt and pepper to taste, and add brown sugar. Cook, stirring occasionally, until slightly translucent. Add garlic, mushrooms, bay leaves, paprika, thyme, marjoram, savory, and dill. Toss and cook until garlic is fragrant, about 30 seconds. Push onion mixture to sides of skillet. Add remaining oil and butter, and increase heat to high. Add oysters, season with salt and pepper, and saute until barely cooked, about 30 seconds. Combine onion mixture with oysters, add turkey and ham, and toss gently to combine. Add reserved oyster liquor, stock and gravy, stir, and bring to a simmer. Check for seasoning, adding more salt and pepper as needed.
Add parsley and green onions to bread cubes. Carefully pour onion mixture over all. Stir to mix well. Mixture should be moist and pack easily, but not too "wet." Add more stock, gravy, or bread cubes as needed. Add eggs to mixture and toss to combine. Pour into prepared casserole. Sprinkle with pine nuts, gently pressing into surface.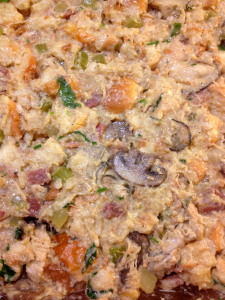 Cover with foil and bake at 350° for 30 minutes, then remove foil and bake for an additional 30 minutes, until slightly browned at edges. Sprinkle with chopped parsley, and serve.
Notes:
You may assemble the dressing up until the baking stage and refrigerate overnight. Bring to room temperature before baking.
Here's where you can put that reserved frying oil to use. What? You don't save your oil after frying with it? Shame on you! I bought a gallon of peanut oil the week before Thanksgiving to make fried chicken. After the frying event, I strained it and put it in the fridge. Man, that stuff is SO flavorful! So I've been using ever since, in everything from vegetable stir frys to…this dressing! Go ahead, add an extra spoonful to the mix. I won't tell!
The herb seasoning mixture is totally flexible. Many people like sage. While I love herbs, I am not a huge fan of sage. So I use thyme a lot, especially with poultry. Use what you like.
The use of turkey or chicken stock and gravy is key. This is what will flavor the overall dish. At Thanksgiving, my dad would have a pot of turkey gravy simmering on the stove, made from his roasted turkey drippings. I'd watch him add ladles of the stuff into his dressing as needed, and that's when it occurred to me just where this wonderful flavor base came from.