Grilled Asian Shrimp with Tamari Salad and Shrimp Noodles
Delectable jumbo shrimp are given special treatment with this spicy soy and sesame-based marinade. A fresh salad of romaine lettuce and nappa cabbage balances the heat, while a shrimp-egg pasta provides a tasty bed for this delicious and beautiful meal.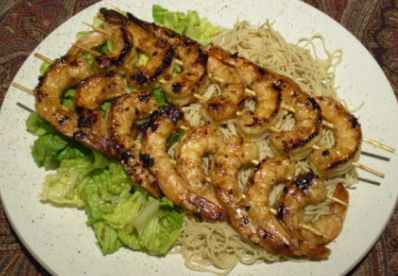 *Shrimp ingredients:
1/4 cup light soy sauce
1 tbl ponzu sauce
1 tbl sesame oil
1/2 tsp garlic powder
1/2 tsp onion powder
1/2 tsp ginger powder
1/2 tsp brown sugar
1/2 tsp ground coriander
1/4 tsp white pepper
1/2 tsp dried chili flakes
Coarse salt
Freshly ground black pepper
1 lb jumbo shrimp, peeled, deveined, tails on
4 wooden skewers, soaked in water for ten minutes
*Salad ingredients:
2 cups washed and shredded romaine lettuce
2 cups washed and shredded nappa cabbage
1/4 cup shredded carrots
3 tbl rice wine vinegar
1 tbl sesame oil
1 tbl tamari soy sauce
Pinch of white pepper
Coarse salt
*Noodle ingredients:
Four servings asian Shrimp Flavored Noodles (preferably made with real shrimp eggs) or angel hair pasta, cooked according to package directions, drained
In a small bowl, combine first twelve ingredients to make marinade. Thread shrimp on two wooden skewers, running one through the tail end and the other through the head area. Place in glass or plastic dish and pour marinade over. Marinate in refrigerator for 30 minutes, turning once or twice.
Heat grill pan to high. Grill skewered shrimp, turning once, until done, about two or three minutes per side. Do not overcook.
Meanwhile, prepare salad:
Whisk vinegar, oil, soy sauce, salt and pepper in a large, non reactive bowl. Add lettuce, cabbage and carrots. Toss to coat well.
To serve, arrange noodles on platter or in individual bowls. Spoon salad next to noodles, and top with grilled shrimp, removing skewers if necessary.