Cantonese Spicy Shrimp with Braised Lettuce
Succulent shrimp are bathed in a rich, tangy sauce, spiked with fresh ginger and garlic. Salted black beans bring an earthiness to the mix, while simple braised iceberg lettuce provides a soothing, crisp contrast to the zesty shrimp.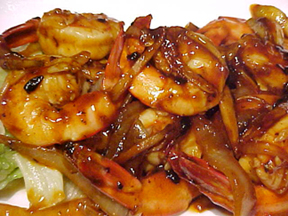 1 lb jumbo (16-20 or larger) shrimp, peeled and deveined, tails intact
2 tbl oyster sauce
3 tbl ketchup
2 tsp dark soy sauce
1 tsp salted black beans, rinsed quickly, drained and mashed
1 cup sliced white onion
2 tbl ginger, peeled and julienned
4 cloves garlic, smashed
2 tbl vegetable oil
2 tbl water
1/2 tsp brown sugar
Coarse salt
Freshly ground pepper
White pepper
Place shrimp in a medium bowl. Drizzle with 1 tsp soy sauce. Sprinkle with salt, white and black pepper. Toss and set aside. Combine oyster sauce, remaining soy sauce and ketchup in a small bowl. Heat a wok or large skillet over high heat. Add vegetable oil, swirling to coat surface. Add black beans, garlic, onion and ginger. Sprinkle with brown sugar. Cook for 30 seconds. Add shrimp and stir fry just until shrimp curl and turn pink, about 30 seconds more. Add reserved sauce mixture and water and toss to coat evenly. Add more water if sauce is too thick. Check seasonings and serve immediately over braised lettuce.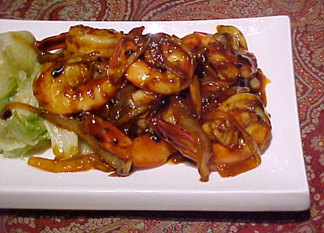 Braised Lettuce
1/2 head iceberg lettuce, rinsed and halved
1 tbl vegetable oil
1 tbl oyster sauce
1 tsp sesame oil
Coarse salt
White pepper
Heat vegetable oil over high heat. Add lettuce and cook, stirring occasionally, until it begins to wilt, about 30 seconds. Add oyster sauce, sesame oil, and a dash of salt and white pepper. Toss to combine. Remove from heat while lettuce is still slightly crunchy and bright green. Serve immediately.