Shrimp and Eggs with Onions and Spinach
Adapted from my mother's recipe (and no, it never tastes quite like hers), this hearty dish is a delicious way to prepare eggs for dinner. Crisp shrimp act as a delicate counterpoint to smooth scrambled eggs, accented by sweet onions and salty oyster sauce. Perfect as part of a multi-course Chinese dinner.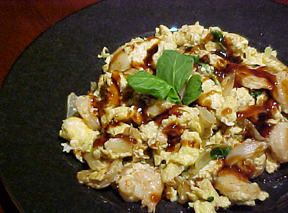 Shrimp and Eggs with Onions and Spinach
1/2 lb. medium shrimp, peeled and deveined
7 large eggs, beaten
3/4 cup yellow onion, sliced
2 green onions, chopped, plus more for garnish
3 cloves garlic, chopped
1 cup baby spinach leaves, well-washed and spun dry (pre-washed and bagged is great)
1/4 tsp garlic powder
coarse salt
white pepper
1/4 tsp sugar
3 tbls. vegetable oil, divided
1/4 cup oyster sauce
This dish moves very quickly, so be sure you have all your ingredients prepared and at arm's reach.
Season shrimp with garlic powder, salt and white pepper; toss to coat and set aside. Season beaten eggs with a pinch each of salt and white pepper.
Heat a wok or a large saute' pan over medium high heat. Add 1 tbl. oil to wok and when smoking, add yellow onions and sugar. Saute' onions until they just begin to brown, about 30 seconds. Add garlic and stir-fry until just fragrant, about 30 seconds. Add 1 tbl. oil and shrimp, tossing constantly until they begin to color, about 30 seconds. Add spinach and continue to stir-fry until wilted, yes, about 30 seconds more. Add green onions, toss once, then add eggs. Gently fold eggs into wok contents until blended and eggs are just set. Do not overcook eggs; they will continue to cook after plating. Transfer at once to serving platter and drizzle oyster sauce over all. Garnish with additional green onions, if desired.