Spinach and Portobello Salad with Grapefruit and Blueberries
Grapefruit and berries add a light, fresh touch to spinach and portobello mushrooms. Lightly sauteed red onions add rich sweetness, while a citrus/balsamic vinaigrette marries all the ingredients together.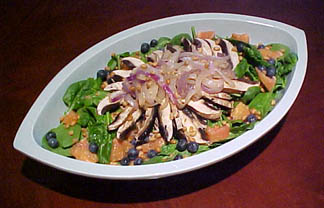 For the salad:
10 oz baby spinach leaves, well washed and dried
1 large Ruby Red grapefruit, sectioned and cut into pieces, juice reserved
1/2 cup fresh blueberries, washed and drained
3 large portobello mushroom caps, sliced, stems removed
1/2 large red onion, sliced
1/4 soy nuts or pine nuts
Brown sugar
Olive oil
Coarse salt
Freshly ground pepper
For the dressing:
2 tbl reserved grapefruit juice
2 tbl balsamic vinegar
2 tbl olive oil
1 tbl honey
1 tsp coarse salt
1/2 tsp freshly ground pepper
1/2 tsp herbs du provence
In a medium skillet, heat 1 tbl olive oil over medium heat. Add red onions, a pinch each of brown sugar, salt and pepper. Saute until lightly colored but still firm. Remove from heat.
In a large bowl, add spinach, grapefruit, blueberries, mushrooms, onions, and soy nuts. Sprinkle with salt and pepper. Add dressing and toss just before serving.
To make dressing, whisk all ingredients together in a medium glass bowl. Check seasonings before adding to salad.