Warm Spinach, Artichoke and Mushroom Dip
A traditional recipe gets a rich update! Hearty portobello mushrooms add unexpected body and earthy undertones (accented by balsamic vinegar) to classic spinach and artichoke dip. Red bell pepper provides a crisp, crunchy counterpoint to the lush, cheesy texture. Fresh Romano and Parmesan cheeses add sharp, aromatic notes, while nutmeg and cloves finish off the broad flavor spectrum of this decadent and delicious hot dip.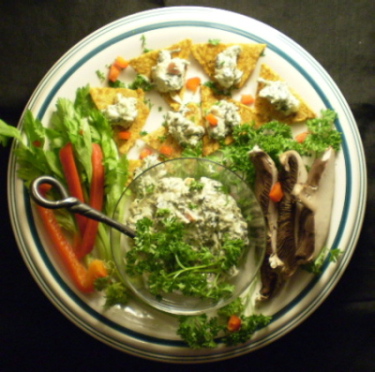 Serves about 12, depending upon appetites!
4 tb butter
4 tb olive oil
4 clove garlic, minced
2 tb minced shallot or red onion
1/2 cup chopped red bell pepper
1 cup chopped portobello mushrooms
1/4 minced fresh parsley, plus more for garnish
1/2 tsp dried thyme
1/2 tsp dried oregano
1/2 tsp salt
1/2 tsp white pepper
1/2 tsp cayenne pepper
1/2 tsp grated nutmeg
1 pinch ground cloves
1/4 cup dry vermouth
1 tsp Worcestershire sauce
1 tsp balsamic vinegar
1 pkg (16 oz size) frozen chopped spinach, thawed and well-drained
1 jar (16 oz size) marinated artichoke hearts, drained and coarsely chopped
16 oz sour cream
8 oz cream cheese, at room temperature
4 oz grated Romano cheese
8 oz grated Parmesan cheese
In a medium saucepan, heat butter and olive oil over medium-high heat until bubbling. Add garlic and shallot and cook for 30 seconds. Add red pepper, mushrooms and parsley, and saute until peppers and mushrooms are wilted and slightly browned, about 2 minutes.
Add thyme, oregano, salt, white pepper, cayenne pepper, nutmeg and cloves to saucepan. Cook and stir constantly until very fragrant, about one minute. Add vermouth and cook, stirring, until liquid is almost evaporated, about one minute more. Add Worcestershire sauce and balsamic vinegar.
Add drained spinach and artichoke hearts; stir to mix well. Reduce heat to medium-low and add sour cream and cream cheese. Stir to combine well. Reduce heat to a simmer and cook about five minutes, until well blended and heated through. Add Romano and Parmesan cheeses; combine and cook on low about five minutes more.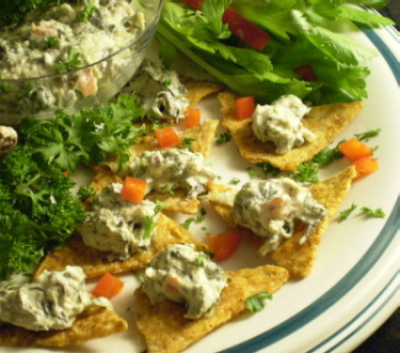 Serve dip warm in a chafing dish, mini-crock pot or other dish. Garnish with additional chopped parsley if desired. Serve with crisp, lightly-seasoned chips, toasted baguette slices, or fresh crudite of your choice.