Banana Muffins with Mascarpone Cream Frosting
Delicious, moist banana muffins are elevated to another level with the addition of mascarpone cheese, whipped with cream cheese, butter and honey. Yum.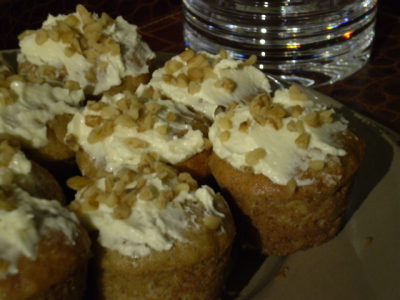 Muffins:
3 cups all-purpose flour
1 tsp baking soda
1 tsp salt
1/2 tsp baking powder
1/2 tsp ground cinnamon
1/2 tsp ground nutmeg
2 cups sugar
1 cup vegetable oil
3 large eggs, room temperature
1 tbl vanilla extract
4 ripe bananas, peeled and coarsely mashed
Frosting:
3 oz. cream cheese, room temperature
6 tbl unsalted butter, room temperature
1/3 cup mascarpone cheese, room temperature
3 tbl honey
1/2 cup chopped walnuts, toasted
Line 18 muffin cups with paper liners, or use equivalent mini muffin tins/paper. Preheat oven to 325 degrees.
Whisk flour, baking soda, baking powder, cinnamon, and nutmeg in a medium bowl to blend. Beat sugar, oil, eggs, and vanilla in a large bowl to blend. Stir in mashed bananas. Add dry ingredients and stir just until blended.
Diving batter among prepared muffin cups. Bake on middle rack until tops are golden brown and tester comes out clean, about 25 minutes. If smaller cups are used, cooking time may be less. Transfer muffins to a rack and cool.
To frost: With an electric mixer, beat cream cheese and butter until light and fluffy. Beat in mascarpone cheese and then honey. Spread over muffins and sprinkle with walnuts.
Recipe from Giada de Laurentiis