Banana Nut Bread
A delicious treat, and a great way to use up ripe bananas. Who doesn't like a nice, moist piece of banana nut bread? Psst…you probably have all these ingredients in your kitchen right now!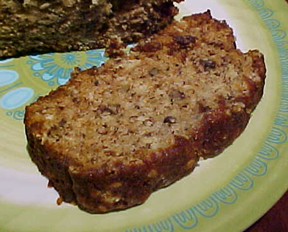 Banana Nut Bread
1/2 cup butter
1/2 cup shortening
2 cups sugar
2 eggs
2 cups bananas, mashed
1/4 teaspoon vanilla extract
3 cups flour
1/2 teaspoon salt
2 teaspoons baking soda
1 cup walnuts or pecans, chopped
Preheat oven to 350. Sift together flour, salt and baking soda. Set aside. Melt butter and shortening on the stove or in microwave. Mix butter mixture and sugar until well blended. Add eggs one at a time, mixing well after each addition. Add bananas and vanilla. Fold in flour mixture and nut and blend until all flour is moist. Grease 2 loaf pans and divide batter equally between the 2 pans. Bake for 1 hour or until center of loaf is firm and toothpick inserted in center comes out clean.
Adapted from: http://www.cdkitchen.com/recipes/recs/271/Banana_Nut_Bread40120.shtml