Blissful Bread Pudding with The Captain's Sauce
Of all the desserts bandied about as "comfort food," bread pudding is at the top of my list. Simple to make, generally from day-old scraps of bread, there is no finer example of how something stale, hard and crusty can be turned into something luxuriously decadent and delicious.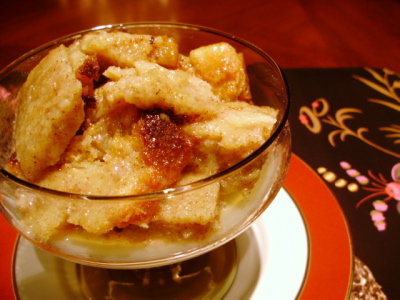 This bread pudding recipe is for purists. It's all about the bread. There are no raisins, nuts, or anything else to get in the way of the deliciously moist, perfectly spiced warm morsels of bread, bathed and fused in a rich custard. Yes, you could substitute low-fat versions of the dairy, but why bother??
The sauce was truly inspired by The Captain…Morgan, that is. I was searching for a simple sauce that would not overpower the pudding, and that would accent the flavors in some way. Enter The Captain. What better way to highlight cinnamon, nutmeg and cloves than with warm spiced rum?
Save those stale dinner rolls, even that last heel in the bread box. Toss 'em in the freezer, and in no time you'll be able to treat yourself to…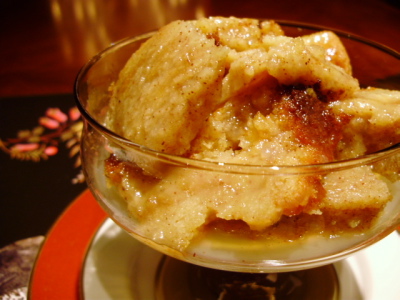 Blissful Bread Pudding with The Captain's Sauce
***Bread Pudding***
10 cups day-old white bread, French bread, dinner rolls or croissant, torn into bite-sized pieces
3 cups heavy cream, half and half, whole milk, or any combination thereof
½ cup unsalted butter, melted
4 eggs, lightly beaten
1 ¾ cup granulated sugar
1 ½ ts vanilla extract
2 ½ ts ground cinnamon
1 ts ground or grated nutmeg
1/8 ts ground cloves
1 pinch salt
***The Captain's Sauce***
1 cup granulated sugar
1 cup whipping cream
2 tb unsalted butter
1/8 ts ground cinnamon
2 ts cornstarch, dissolved in
2 ts water
¼ cup Captain Morgan Spiced Rum
For the bread pudding: Spray 9 x 12-inch baking dish with cooking spray.
Preheat oven to 350 degrees.
In a large bowl, mix milk, butter, sugar, vanilla, cinnamon, nutmeg and cloves. Add the eggs and mix well. Add bread and mix well. Pour into baking dish. Refrigerate for half an hour, up to overnight.
Bake at 350 degrees for 45 minutes or until center tests done with toothpick. Cool slightly and serve with The Captain's Sauce.
For the sauce: Heat sugar, cream, butter, and cinnamon to a gentle boil over medium-high heat. Stir in enough cornstarch mixture until slightly thickened to desired consistency. Remove from heat and add rum. Stir to mix well. Serve warm atop bread pudding and/or ice cream.
Note: If you have a little mini-crock pot designed for dips and sauces, this would be the perfect time to use it to keep the sauce nice and warm.