Thick Pork Loin Chops with Five-Spice Mushroom Sauce
Thick pork loin chops provide the perfect meaty backdrop for a savory, earthy, Asian-based mushroom sauce. Warm and spicy five-spice powder is balanced by the sweetness of oyster sauce and the bright, salty notes of light soy sauce. Crimini mushrooms lend delicate texture and subtle flavor.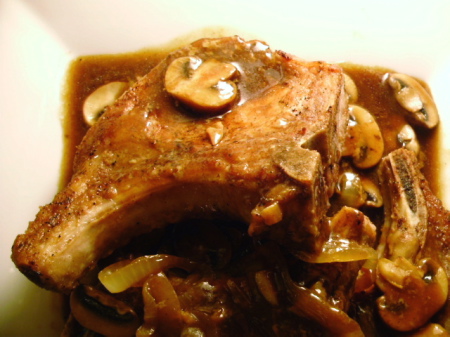 Thick Pork Loin Chops with Five-Spice Mushroom Sauce
4 pork loin chops (1-inch thick)

1 ts salt

1/2 ts freshly ground black pepper

1 ts five-spice powder

2 tb vegetable oil

1/2 c sliced onion

4 cloves garlic, coarsely chopped

1 piece (1/2-inch size) fresh ginger, chopped

4 oz crimini mushrooms, sliced

1/4 cup oyster sauce

2 tb light soy sauce

2 cup warm water or chicken broth

1 ts cornstarch, dissolved in

1 tb water

1 ts sesame oil

salt and pepper to taste
Season chops with salt, pepper and half of the five-spice powder.
Heat half the oil in a large lidded skillet over high heat and sear chops, about 4 minutes per side, until medium-well. Remove and set aside.
Add remaining oil to skillet and add onion, garlic, ginger and mushrooms. Saute for 30 seconds, then add remaining five-spice powder, oyster sauce, soy sauce, and warm water or stock. Bring to a boil, then add cornstarch mixture. Stir until slightly thickened.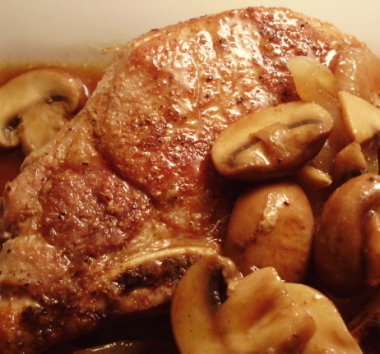 Add chops back to skillet, and turn to coat. Reduce heat, cover and simmer for five minutes more, until chops are cooked through but still moist.
Remove chops to serving platter. Add sesame oil to sauce. Check seasonings and spoon sauce over chops.