Pistachio Pork Chops
The sauce also works well with cashews. Ginger and red pepper add a nice "zing" to the sauce, and the texture is great!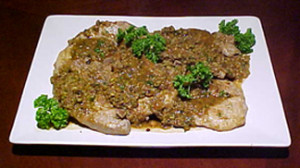 4 pork chops
2 tsp olive oil
3/4 cup shelled pistachio nuts, finely ground
2 cloves garlic, chopped
1/2 tsp crushed red pepper, or to taste
1/2 tsp grated fresh ginger root
1 cup hot chicken broth
Coarse salt and freshly ground pepper
Snipped parsley
Season chops with salt and pepper. Using one tsp olive oil over medium heat, brown pork chops on both sides in a large skillet or dutch oven. Remove from skillet. Add remaining tsp olive oil and quickly saute garlic, ginger and red pepper flakes. Do not burn! Add nuts and stir to combine. Slowly add about 1/2 cup chicken broth, stirring to blend. Add chops back to skillet and simmer, covered, for about fifteen minutes. To serve, remove chops to serving dish and add more chicken stock to thin sauce if necessary. Check for seasonings and pour sauce over chops and garnish with parsley.