Groovy Guacamole
Lots of lime and lemon juice add fresh, bright notes to this luscious, rich guacamole. And yes, some secrets are revealed! Simple, "home style" salsa and bottled chipotle hot sauce add subtle heat and depth, while cumin and cilantro round out the flavor spectrum. Serve with chips, of course, but try using leftovers in omelettes the next day!
And yeah, those are avocado pits!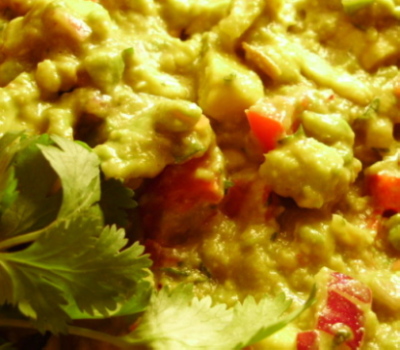 Groovy Guacamole
10 large, ripe avocados
3/4 cup fresh lime juice
1/4 cup fresh lemon juice
8 roma tomatoes, seeded and chopped
2 cups chopped red onion, rinsed and drained
6 cloves garlic, pressed
2 jalapeno, seeded and minced
1 cup finely chopped cilantro leaves
1 tb ground cumin
1 ts sugar
2 tb bottled Bufalo chipotle hot sauce
1 can (7 oz size) Faraon Home Style Mexican sauce
Salt and freshly ground pepper to taste
Halve and pit avocados. Dice and place in large bowl. Add lemon and lime juice, stir. Add tomatoes, onion, garlic, jalapeno, cilantro, cumin, sugar and sauce. Stir well. Season to taste with salt and pepper.
Chill for several hours or overnight. Stir and serve.
Serves about 20.