And the winner is…WINGS!
Not for the faint of heart, these pieces of piquant poultry get their heat from Thai Sriracha sauce. A great base marinade of cumin, coriander and cinnamon grounds the fiery heat of these wings. Perfect for game time, or anytime you want a little change from the typical, and now wimpy, "wing." Temper the heat with a cool, yogurt-lime dipping sauce.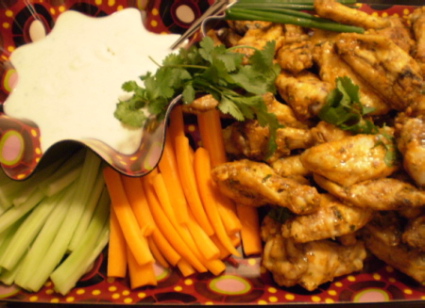 Sriracha Chicken Wings*
10 pounds chicken wings, disjointed
1/4 cup coriander seeds, crushed
1 teaspoon cumin seeds, crushed
1 teaspoon cinnamon
2 tablespoons kosher salt
1/4 cup extra-virgin olive oil
3/4 cup Sriracha chile sauce
12 tablespoons unsalted butter, melted
1/2 cup cilantro, chopped
3 limes, juiced and zested
In a very large, non-reactive bowl, toss wing portions with coriander, cumin, cinnamon, salt and olive oil. Cover and refrigerate for at least 4 hours or overnight.
Preheat oven to 400 degrees. Spread wings on large, rimmed baking sheets and roast for about 1 hour, turning once, until crispy and golden.
Wash out the large bowl. Add the Sriracha, butter, cilantro, lime zest and juice.
Add wings to sauce in the large bowl in batches and toss to coat. Transfer the coated wings to a platter, leaving remaining sauce behind for the next batches.
Serve warm with yogurt-lime dipping sauce, garnishing with additional chopped cilantro, if desired.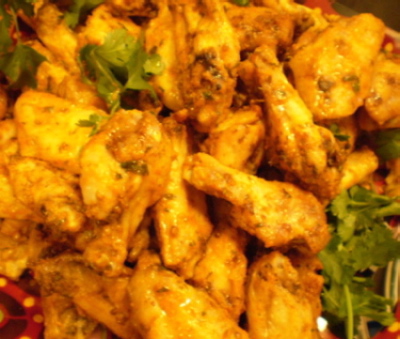 Yogurt-Lime Dipping Sauce
2 cups plain yogurt
1 lime, juiced and zested
2 tbl honey
1 tsp coarse salt
1/2 white pepper
1/4 tsp sesame oil
Mix all ingredients together. Refrigerate until ready to serve.
*Based on a recipe by Michael Symon.