Orange Chili Noodle Salad
Cool and refreshing, but with a little bite, these delicious noodles get their heat from Asian chili paste. Fresh orange zest brings fresh, bright notes, while a garlic and ginger-infused oil gives depth and flavor. A perfect side dish; add cooked chicken, beef or shrimp to make this a delicious cold entree.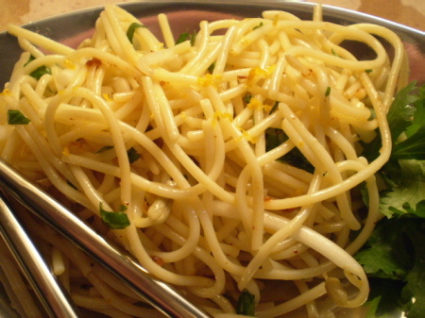 Orange Chili Noodle Salad
6 cloves garlic, mashed
1 piece (1 inch size) fresh ginger, sliced into coins
1/4 cup vegetable oil
1/2 cup rice wine vinegar
1/4 cup light soy sauce
2 tablespoons honey
2 tablespoons frozen orange juice concentrate, thawed
2 tablespoons chili paste
1 teaspoon coarse salt
1 teaspoon white pepper
2 pounds thin spaghetti, cooked al dente and chilled
2 large oranges, zest of
1 pound fresh bean sprouts, rinsed and drained
1/2 cup fresh cilantro, chopped, plus more for garnish
Place garlic, ginger and vegetable oil in a small saucepan. Over low heat, slowly and gently simmer garlic and ginger, taking care not to brown or burn. Stir frequently, until oil is well-infused with the garlic and ginger, about ten minutes. Remove from heat and let cool; remove garlic and ginger and discard (garlic may be used as a tasty addition to salads or pizza).
Make dressing by whisking infused oil, vinegar, soy sauce, honey, orange juice concentrate, chili paste, salt and pepper in a large bowl. Add cooked noodles and toss to coat. Add orange zest, bean sprouts and cilantro. Toss again to coat well and chill at least two hours.
Toss again before serving, garnishing with additional cilantro sprigs.
Serves about 16.