Balsamic Roasted Chicken
Balsamic vinegar takes on a rich, sweet quality after roasting. The gremolata-like garnish of lemon zest and parsley adds a fresh, vibrant touch. A delicious, flavorful way to roast your next chicken.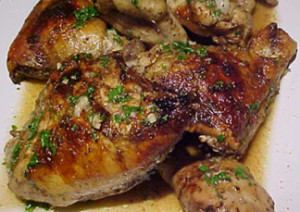 1/4 cup balsamic vinegar
2 tbl Dijon or other coarse-grained mustard
2 tbl fresh lemon juice and
1 tsp lemon zest
2 cloves garlic, finely chopped
2 tbl olive oil
1/2 tsp brown sugar
Coarse salt and freshly ground pepper
1 4-5 lb chicken, cut into eight pieces
1/2 cup chicken stock (homemade preferred) or water
1 tbl chopped fresh parsley
In a medium nonreactive bowl, whisk the vinegar, mustard, lemon juice, garlic, olive oil, brown sugar, salt and pepper to taste. Pour over chicken pieces in a plastic bag or other tightly-sealable container. Marinate, refrigerated, for at least 2 hours or overnight.
Preheat oven to 400 degrees. Remove chicken pieces from marinade and arrange in a large baking dish, sprayed with a non-stick cooking spray. Roast for about one hour; cover with foil if it browns too quickly. Remove chicken to a serving platter. Place baking dish on stovetop over medium heat and deglaze with the chicken stock or water, being sure to scrape up any bits in the bottom of the dish. Simmer until sauce thickens slightly, about five minutes. Pour sauce over chicken. Mix lemon zest and parsley in a small bowl. Sprinkle over chicken and serve.