Balsamic Roasted Chicken with Tarragon
Balsamic vinegar tenderizes and imparts a rich, slightly sweet flavor to the chicken and helps the skin brown to crisp, delicate goodness. Tarragon and garlic combine deliciously with the vinegar and pepper to season this moist, juicy chicken. Roast this bird butterflied to maximize the surface area for browning and to help ensure even cooking throughout.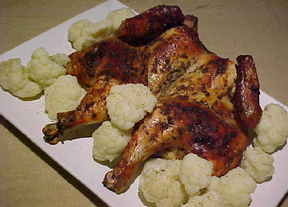 1 4 lb chicken, whole
2 tbl balsamic vinegar
1 tsp worcestershire sauce
2 tbl olive oil
3 cloves garlic, finely chopped
2 tsp dried tarragon
1 tsp dried thyme
2 tsp coarse salt
1 tsp freshly ground pepper
1/2 tsp white pepper
1/4 tsp cayenne pepper
1 tsp brown sugar
Preheat oven to 400 degrees. Rinse chicken and pat dry with paper towels. With a sharp knife or cleaver, split chicken down the backbone. Lay chicken out, skin side down, on a flat surface. Press down on either side of the breastbone until it pops out. Remove it, along with the piece of cartilage attached. Combine remaining ingredients and pour over chicken, rubbing all over. Marinate for at least 30 minutes or longer in refrigerator. Place chicken on rack in broiling pan and bake for 45 minutes.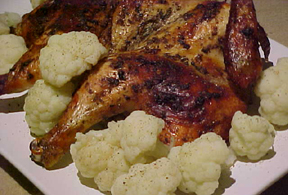 Reduce heat to 325 and bake for twenty minutes more, covering with foil if skin browns too quickly. Turn off oven and leave chicken in oven for ten to fifteen minutes, for a total of about an hour and twenty minutes for a four-lb bird. Remove chicken from oven and let sit for at least ten minutes. Cut into serving pieces and serve.