Herbs de Provence Roasted Chicken with Braised Spinach
A simple roast chicken, fragranced with lovely herbs de provence and smoky paprika, is paired with garlicky spinach for a delicious dinner.

Herbs de Provence Roasted Chicken with Braised Spinach
A roasted chicken is the perfect blank canvas. Whatever your mood, you can season to suit, adding a little more of this, a little less of that, or try something completely different. It all works out to create a delicious expression of your culinary artistry!
Chicken:
1 whole chicken, about 4 pounds
2 tb olive oil
1 ts light soy sauce
1 ts balsamic vinegar
sea salt
freshly ground black pepper
2 tb herbs de provence
1 ts smoked paprika
Preheat oven to 400º. Prepare a large flat rack and shallow pan, or broiling pan by lining with foil and spraying rack with non-stick spray. Set aside.
To ensure even browning, spatchcock the bird. There are many instructions and videos online, but here's what I do: Stand the bird up on its neck, grasping the bird firmly at the breast end. Cut down the backbone, then lay it out flat, skin side down. With the heel of your hand, press down gently along the breast, flattening slightly. The breastbone should begin to pop out. Press down on either side of the breastbone and cartilage, and the skin with come away from it. Grasp the breastbone and cartilage unit, and twist it out.
Drizzle both sides of the chicken with olive oil, soy sauce and balsamic vinegar. Rub all over, into the skin and into the ribcage. Sprinkle liberally with salt, pepper, herbs de provence and paprika. Place chicken on rack in prepared pan. Roast for 30 minutes, then reduce heat to 350º. Continue cooking until nicely browned and you pull an internal temp of 165º (about 45 minutes). Cover with foil if the skin browns too quickly.
Let chicken rest for 15 minutes before carving.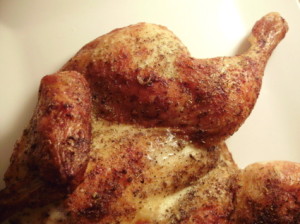 Spinach:
1 tb olive oil
4 cloves garlic, coarsely chopped
8 oz fresh spinach leaves, well-washed and dried
1/4 cup chicken or vegetable stock, or water
sea salt
freshly ground black pepper
brown sugar
white pepper
red pepper flakes
In a large lidded skillet, heat the oil over medium high heat. Add the garlic, and stir, cooking just until fragrant. Do not burn. Add the spinach and toss to coat. Add the stock or water, and cover. Braise for about three minutes, until spinach is wilted. Season to taste with salt, black pepper, and pinches of brown sugar, white pepper, and red pepper flakes. Cook for about a minute more, and serve immediately.