Venison Hamburger Steaks with Noodles and Onion Gravy
Lean, ground venison lends itself well to this delicious and satisfying dish. Caramelized onions impart their sweet, delicate flavor to the smooth but rich gravy, and simple buttered noodles finish off the meal.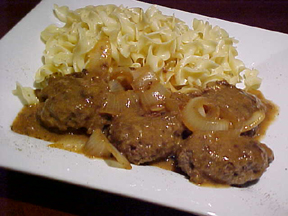 2 lbs ground venison, ground beef, or a combination of the two
2 tbl A-1 steak sauce
1 tbl worcestershire sauce
1 tsp garlic powder
1/2 tsp white pepper
1/2 tsp freshly ground black pepper
2 tbl olive oil
1 small yellow onion, sliced
1/2 tsp brown sugar
1 12 oz package egg noodles
6 tbl butter, divided
1 tsp dried parsley flakes
2 tbl flour
2 cups hot chicken broth or water
Coarse salt
Season ground meat with steak sauce, worcestershire sauce, garlic powder, ground peppers, and salt to taste. Form into eight small patties and marinate in refrigerator for at least one hour.
In a large dutch oven over medium high heat, heat olive oil and cook meat patties, turning to brown well on both sides, about ten minutes. Halfway through cooking, add onions, sprinking with brown sugar and cook until browned and caramelized, about five minutes. Remove meat and onions to a plate and reduce heat to medium low. Add 4 tbl butter and flour and cook, stirring constantly with wire whisk until slightly browned. Add hot chicken broth or water and continue to whisk until gravy is smooth and slightly thickened. Return meat and onions to dutch oven and turn to coat. Cover and simmer over low heat for about twenty minutes.
Cook noodles according to package directions. Drain well and return to warm cooking pot. Turn off heat. Add 2 tbl butter, parsley, salt and pepper and toss well.
Check all for seasonings and serve at once. Yum.