Seared Venison Backstrap with Caramelized Onions and Rosemary
Lean and tender, venison backstrap is best served medium rare. A quick marinade with a simple balsamic vinaigrette tenderizes and removes any gaminess. Sweet, caramelized onions accent the rich, velvety texture of this delicious meat.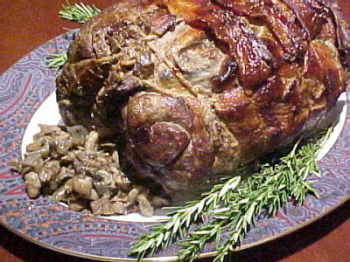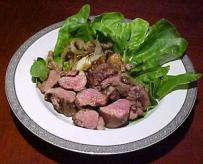 2 lbs venison backstrap, cleaned of any silvery membrane
2 tbl balsamic vinegar
3 tbl olive oil
1 cup white or yellow onion, sliced
2 cloves garlic, mashed
1 tsp fresh rosemary
Garlic powder
Coarse salt
Freshly ground pepper
Rinse venison and pat dry. Season liberally with garlic powder, salt and pepper. Add balsamic vinegar and 1 tbl olive oil. Rub into meat and let marinate for 30 minutes. Heat 1 tbl olive oil over medium high heat. Pan fry venison, turning to brown, until medium rare – about four minutes total for a two-inch thick backstrap. Remove from heat and tent with foil. Add 1 tbl olive oil to pan. Add onions, garlic and rosemary. Toss and cook until onions brown and are slightly caramelized, about two minutes. Remove from heat. Slice venison at an angle and serve with onion and garlic mixture.