Steak Kue
A leftover steak inspired me to turn refrigerator leftovers into a delicious, nostalgic dinner.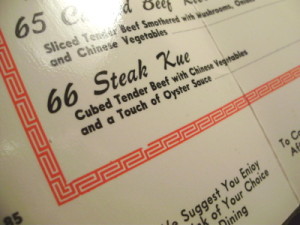 I've talked about number 66 on Gee's Restaurant's menu before: Steak Kue. As a kid growing up around the kitchen, I grew to appreciate the flavor of oyster sauce and beef. I top simple grilled steak with oyster sauce, work it into sauces to lend a rich, sweet, Asian flair to grilled meats, and it is a regular addition to stir-frys.
Here, a leftover steak becomes transformed into a delicious dinner. Sriracha and fresh Thai basil add fresh, updated notes on a nostalgic dish.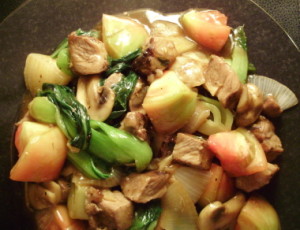 Steak Kue
2 tb vegetable oil, divided use
1 lb beef (preferably ribeye) steak, cooked to rare, rested, chilled and cubed

1/2 yellow onion, sliced

coarse salt

freshly ground black pepper

white pepper
1/2 ts brown sugar

4 white or crimini mushrooms, sliced

4 cloves garlic, chopped

2 heads baby bok choy, quartered and rinsed well

3 tb oyster sauce

1 tb light soy sauce

1/2 ts sriracha sauce, or to taste

1/2 ts toasted sesame oil

1 c chicken stock or water
1 tb cornstarch, dissolved in
1/4 c water

1 roma or heirloom tomato, quartered

1 tb fresh Thai basil, coarsely chopped
Heat 1 tablespoon oil in a wok over high heat. Add steak cubes and cook for 30 seconds, until lightly browned. Remove to a large bowl. Add another tablespoon of oil to wok. Add onions, sprinkle with pinches of salt, white pepper and brown sugar and cook until just fragrant. Add mushrooms and garlic; cook for 30 seconds. Sprinkle with more salt and white pepper. Add bok choy, toss and cook until outer leaves are just fork tender, but center is still firm.
In a small dish, combine oyster sauce, soy sauce, sriracha, and sesame oil. Pour over mixture in wok, stirring well. Add chicken stock or water, and bring to a boil. Add cornstarch mixture, return to a boil until thickened. Return steak to the wok, stir, and reduce heat to a simmer. Add Thai basil and tomatoes, cook long enough to just heat tomatoes through, then remove to a platter and serve immediately.