Cooking The Perfect Steak – Part Five
No, this is not a recipe for creme brulee. It is indeed a post about my attempts to cook The Perfect Steak. And for this post, I only have two words: Bacon fat.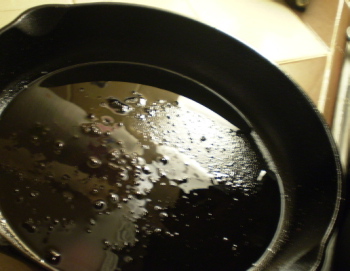 There is no photo of The Perfect Steak in this post. There is nothing left of this steak at all. There are, however, the remains of HOW to cook The Perfect Steak. And that would be the lovely liquid that is Bacon Fat.
This time I cooked a boneless, nicely marbled ribeye. Simply seasoned with salt, pepper and a good rub with a big, juicy clove of garlic, the steak was about 1 inch thick. The bacon fat, cut with a dash of olive oil, had a much higher smoking point and thus allowed the steak to develop a terrific browned crust without burning. The aroma was intoxicating. Once out of the cast iron skillet, I added a dash of coarse salt and a crank of freshly ground pepper. The subtle flavors from the garlic and the bacon fat were perfect with the fresh, medium rare meat.
Yum. Perfection? Almost there!