Cooking The Perfect Steak – Part Eight
The usual suspect: 24 ounce bone-in rib eye. Succulent, meaty, and delicious. But this time, it was all about the mushrooms…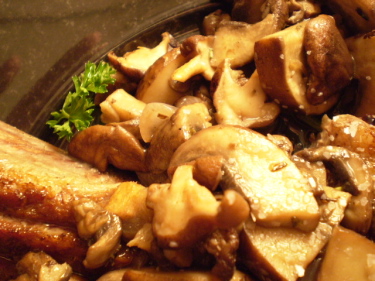 With this massive, thick rib eye at my mercy, I wanted more than seasonings to liven up the meal. I turned to the always-friendly fungi for help.
Fresh portobellos, the medium size, not too wide, with nice, thick caps, were the base of the saute. Fresh shiitakes, not as strong as dried, added a nice, sturdy, mid-range of flavor. I had some dried porcinis leftover from some other recipe, so I rehydrated a few of those for a nice jolt of mushroom goodness.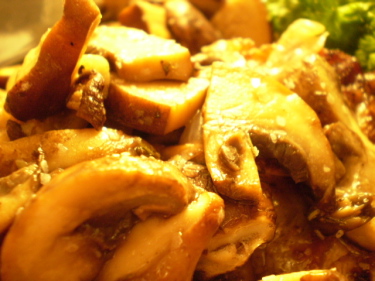 I melted equal parts olive oil and butter, then added a chopped shallot, three cloves of garlic, then the mushrooms. Coarse salt, a few grinds of pepper, and a dash of organic sugar started the party. Then I deglazed with some dry vermouth and added a pinch of dried thyme, red pepper flakes and freshly chopped parsley.
The steak was rubbed with a clove of garlic, all over, bone, fat and all. I pooled a bit of olive oil and red wine vinegar on a plate, placed the steak on it, then seasoned it on both sides with lots of freshly cracked black pepper and coarse salt. Turned it a few times to coat.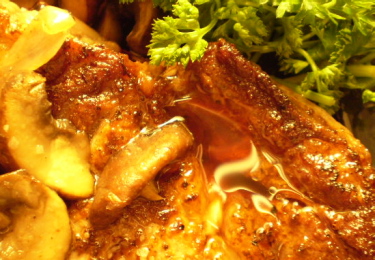 I had used my cast iron skillet a few weeks before to make some very aromatic Chinese five spice salt and I could still smell the residue burning off as I heated it up. I wondered if it would add anything special to the steak; I can't say that it did.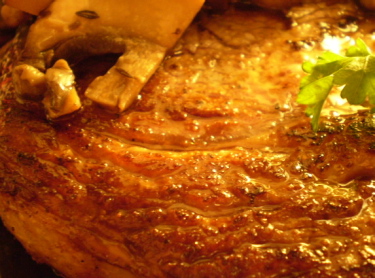 The initial searing was terrific, setting off the smoke alarm like nothng else can. After turning, I finished it in the oven. I have to say the majority of the steak was just this side of medium (phone call), a little more done than I like, but the portion nearest the bone was a perfect medium rare, just rare enough to cling to the bone, but done enough to not have that sinewy toughness. There was no raw blood flavor, either, often an issue with really thick, bone-in cuts like this.
The pile of mushrooms on the steak was really delicious, adding a wonderful, earthy component to the juicy steak. The somewhat firm tooth of the mushrooms was complimented by the tenderness of the meat; the hints of wine, onion, garlic, and thyme brightened and accented the rich, natural flavors.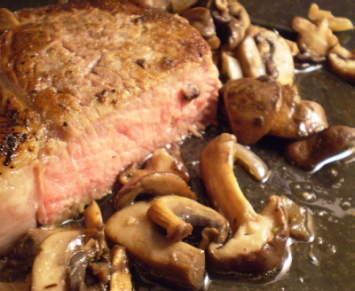 It was truly an awesome steak.
Can't wait for the next one!