Cooking The Perfect Steak – Part Six…with gas!
There is nothing better than cooking with gas. After having a new gas cooktop installed recently, I knew I would have to test out the ultimate recipe – steak!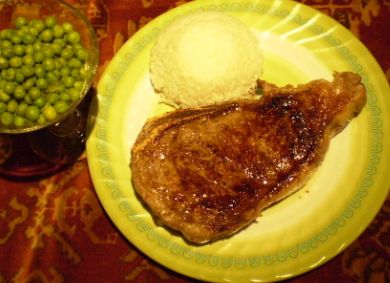 Gas cooking provides a terrific heat source, one that can be easily controlled. Coupled with a cast iron skillet, the results are amazing!
My prep wasn't very different; I rubbed the steak (bone-in New York Strip) with a cut clove of garlic, sprinkled with freshly cracked pepper and a little sea salt. Melted a little butter and olive oil in the skillet then cooked it to perfection. The terrific thing about gas is the ability to "turn down" or "turn up" the heat source quickly. And cast iron responds so well. I got a good sear on both sides, yet the interior was a nice, juicy medium rare.
I'm VERY happy with my gas cooktop!