Cooking The Perfect Steak – Part Nine
I've discovered that the perfect addition to a simple grilled steak is a compound butter. Adding a big, flavorful punch, these butters are simple to make, and the possible combinations are truly endless. For this New York Strip: Kaffir Lime, Ginger and Garlic, with a nice hit of Sriracha!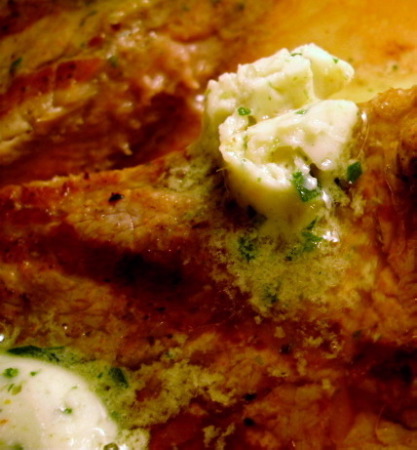 My friend Thuy gave me some kaffir lime leaves the other day. Intrigued by their subtle, yet intense citrus-y aroma, I was eager to cook with them. After trying a few recipes (stir-fry, soup, roast chicken) that drew the herbaceous flavor from the leaves through steeping or braising, I set out to find a way to maintain the intensity of the leaves in their natural, uncooked state.
Thus the compound butter idea.
Thanks to some friendly online advice and a little research, I found that pulverized kaffir lime leaves are perfect for such an application.
I finely minced the sturdy leaves as much as I could (about four whole ones), then put them into my mortar. To balance and compliment the flavor, I added a small clove of garlic and a slice of fresh ginger. Sea salt acted as an abrasive, and I pounded the whole mess into a paste. I combined that with a stick of unsalted butter. Since I had steak in mind that evening, I wanted to add a little heat. A few dashes of sriracha, white pepper and black pepper did the trick.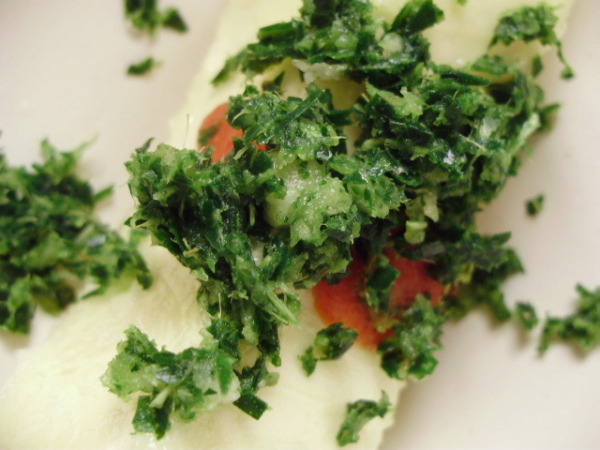 While the butter chilled in the fridge, I cooked the steaks. Boneless strips were fresh and on sale (you know I can't pass up a bargain) so those were seasoned simply with sea salt and pepper.
Have I talked about how great grapeseed oil is? It's fantastic for high-heat cooking, whether stir-frying, pan-frying, or searing steaks. The smoke point is very high, and it enables great markings on your meat!
So, after a quick turn in my grill pan (with grapeseed oil), I dabbed the kaffir lime butter on the steaks. The fragrance was amazing, with the garlic and ginger adding nice earthy, spicy notes to the grassy and fresh lime aroma. On the grilled meat, it was absolutely delicious! Concentrated in little drops of butter, the kaffir lime flavor was striking yet subtle, so it did not take away from the flavor of the meat itself.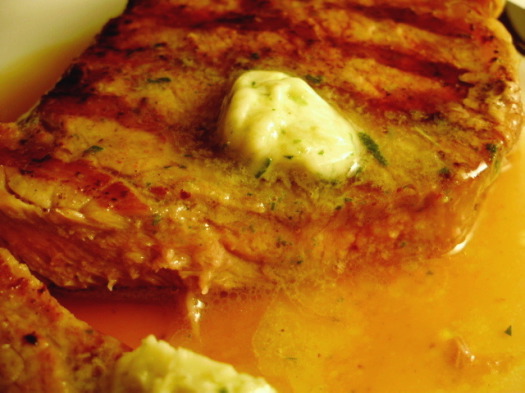 Yes, compound butters are a new great way to add flavor to a Perfect Steak. Stay tuned to see what I whip up next!