Spiced Polynesian Pork
The fine folks at Marx Foods issued a challenge that was right up my alley: Create a savory dish recipe with ingredients used primarily in sweet dishes. So, armed with Granulated Honey, Coconut Sugar, and Fennel Herb Crystals, I turned to my favorite of all savory ingredients: Pork!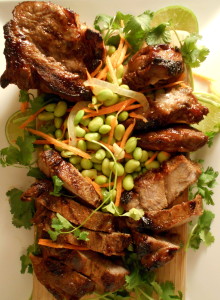 Spiced Polynesian Pork
For this challenge, the idea of sweet fennel made me think immediately of Chinese Five Spice. I decided to infuse the marinade with a "tea" of cinnamon, ginger, and cloves – all traditional components of Five Spice – and added Szechwan peppercorns and the fennel crystals to round out the Five Spice flavor profile. Coconut crystals seemed to work naturally with Five Spice, and I bridged the tropical element with fresh citrus juices. Soy sauce and crystallized honey helped create a marvelous, finger-licking glaze, while garlic, onion, Aleppo, and jalapeno add aroma and spice. This was a delicious recipe, and I thank Marx Foods for providing me with items outside my usual "box" of savory items. Enjoy!
1 cup water
1 cinnamon stick
3 whole cloves
½ cup fresh ginger, peeled and sliced
1 tb black peppercorns
Juice of 1 grapefruit
Juice of 3 lemons
Juice of 3 limes
1 cup pineapple juice
1 cup light soy sauce
1 tb vegetable oil
1 medium onion, thinly sliced
6 cloves garlic, mashed
1 partially seeded jalapeno, sliced
1 tsp crystallized ginger
1 tb fennel crystals
¼ cup crystallized honey
¼ cup coconut sugar
1 tsp coarse salt
1 tsp Szechwan peppercorns, lightly crushed
½ tsp Aleppo pepper
½ tsp dried oregano
4 lbs pork country style ribs, or boneless pork butt, cut into strips or 2″ slabs
Fresh cilantro, for garnish
Lime slices, for garnish
In a saucepan over medium heat, bring water and next four ingredients to a boil. Reduce heat and simmer 20 minutes. Remove from heat and cool.
In a large, non-reactive container, combine remaining ingredients, except pork and garnishes. Add cooled spiced liquid and mix well until crystallized items are dissolved. Add pork pieces, cover, and marinate up to two hours, but no longer.
To cook, preheat broiler to 450º. Prepare broiling pan by lining base with foil, and spraying grate with cooking spray. Remove pork from marinade. Remove any herbs or aromatics clinging to the meat. Pat dry with paper towels. Pour marinade into a non-reactive saucepan and bring to a boil over medium heat for one minute. Reduce to a simmer and cover. Check heated marinade for seasonings; it should be tangy but slightly sweet. Add more salt, spices, or honey as needed; tartness will depend upon the citrus fruits used.
Place pork on prepared broiling pan, and broil until beginning to brown, about 10 minutes. Reduce heat to 350º, baste with reserved simmered marinade, and continue to cook for 10 minutes. Return to broil at 450º, taking care meat does not burn. Turn meat over, and repeat process until meat is nicely browned and glazed, about 45-50 minutes. Continue to bake at 325º until internal temperature reaches 130º. Turn off oven, and let pork rest in hot oven for about 15 more minutes, or until pork just reaches 140º.
Remove from oven, slice, and serve with additional simmered marinade as a sauce, if desired.
Marx Foods provided the Granulated Honey, Coconut Sugar, and Fennel Crystals used in this recipe.