Porkography III: Pan Seared Pork Shoulder
Thick boneless pork shoulder strips, marinated, pan-seared and finished in the oven. The result was juicy, mouth-watering pork perfection.

Pork shoulder ranks among one of my favorite cuts of pork. Cut into strips, better known as Country-Style Ribs, the pieces yield delicious pork flavor, no doubt helped out by the abundance of fat surrounding the sections of meat.
This night, I was after BIG flavor. Lots of salt, crushed garlic, rosemary, worcestershire, soy sauce and olive oil was a good start. Cumin, smoked paprika and lots of black pepper finished it off. They got a good, hot sear in the cast iron all around, then a pass through the oven roasted them to juicy perfection.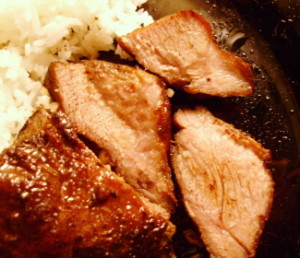 Have I mentioned I love pork??