Linguini Fra Diavolo with Mussels and Clams
Fresh mussels and clams, nestled on a bed of buttered linguine…what could be better? The zesty sauce – with a garlic, shallot and white wine base – is boosted by red pepper, fresh Roma tomatoes, fresh basil and cilantro. Be sure to have lots of French bread on hand to soak up the juices left in your bowl.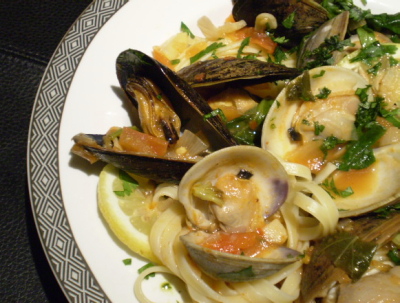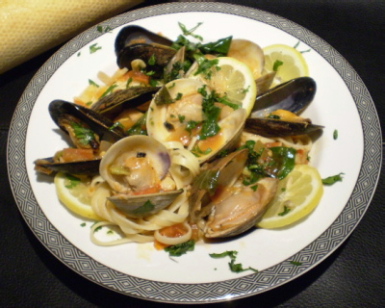 24 mussels, or combination of mussels and clams, soaked and rinsed, beards removed
1 shallot, peeled and minced
4 cloves garlic, minced
1 lemon, halved, one half sliced, the other juiced, juice reserved
1 bay leaf
3 ripe roma tomatoes, chopped
1/2 tsp brown sugar
1/4 tsp white pepper
1/2 tsp red pepper flakes
1 cup dry white wine
2 cups chicken stock
1/2 tsp worcestershire sauce
1 tsp balsamic vinegar
1/2 tsp red pepper flakes
1 tbl fresh basil, chopped
2 tbl tomato paste
2 tbl olive oil
Coarse salt
1 tbl butter
1 tbl fresh cilantro, chopped
1 lb linguini, cooked according to package directions, drained
Drain rinsed mussels and set aside. In a stock pot, heat olive oil over medium high heat. Add shallots, garlic, and cook until fragrant, about one minute. Add bay leaf, tomatoes, brown sugar, white pepper and pinch of salt. Cook for 30 seconds. Add wine, stock, worcestershire sauce, vinegar, lemon juice, red pepper flakes, basil and tomato paste and bring to a boil. Reduce heat, cover and simmer for ten minutes. Remove cover, increase heat to medium high and bring to rolling boil. Add mussels and cover, cooking for five minutes, or until they open and are cooked through. Discard any unopened mussels. Add butter; stir to combine until sauce slightly thickens, about one minute. Check seasonings and serve at once over cooked, hot linguini, with crusty French bread. Garnish with lemon slices and fresh cilantro. Serves two.