Chinese Turkey Meatball Soup with Winter Melon
Light and fluffy, these turkey meatballs are delicious when simmered in a flavorful stock. Delicate winter melon, crisp bok choy and earthy shiitake mushrooms add color, texture and flavor.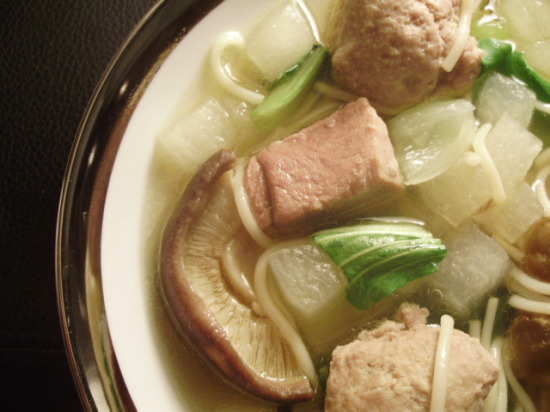 It's soup season! I was surprised at how light and fluffy these meatballs turned out after simmering in the soup! They held together quite well too, thanks to the egg and cornstarch. I'll want to try variations on the seasonings next time, perhaps adding chives and/or waterchestnuts to the meatball mixture.
Chinese Turkey Meatball Soup with Winter Melon
4 qt chicken and/or pork stock, preferably homemade
4 dried shiitake mushrooms, rehydrated, stemmed, and halved, soaking liquid reserved
1 piece (1″ size) fresh ginger, peeled and sliced into coins
2 cup diced winter melon
5 oz vermicelli or other thin egg noodle
2 head baby bok choy, rinsed and chopped
Toasted sesame oil, for drizzling
***Meatballs***
1 lb ground turkey
1 egg, beaten
1 ts salt
1/2 ts white pepper
2 tb light soy sauce
1 ts oyster sauce
2 ts sesame oil
1/4 ts freshly grated ginger
1/4 ts garlic powder
1/4 ts onion powder
1/4 ts brown sugar
2 tb cornstarch
Combine all meatball ingredients together and form into 1 1/2″ balls. Chill, covered in refrigerator, at least 30 minutes.
Bring stock to a simmer. Gently spoon reserved mushroom soaking liquid into stock, discarding any sediment left behind. Add mushrooms and ginger to stock and simmer, partially covered, for 30 minutes.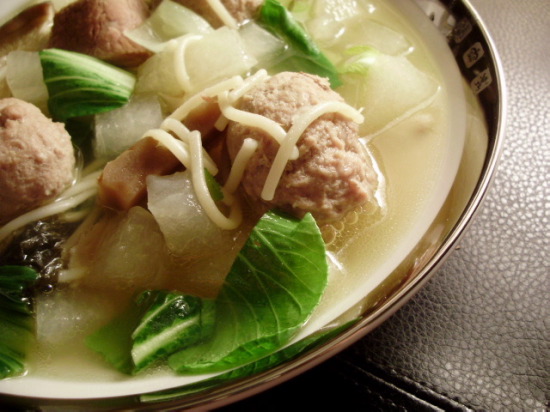 Raise heat to high and bring stock to a boil. Gently slip meatballs into stock, taking care not to crowd. When meatballs begin to float, maintain a gentle simmer and cook, covered for 30 minutes.
Uncover and add winter melon. Cook for about five minutes. Add noodles, and cook for about five minutes more. Add bok choy and cook for another few minutes, just until melon is fork tender and slightly translucent, noodles are done, and bok choy is crisp-tender.
Check seasonings and add sesame oil to finish.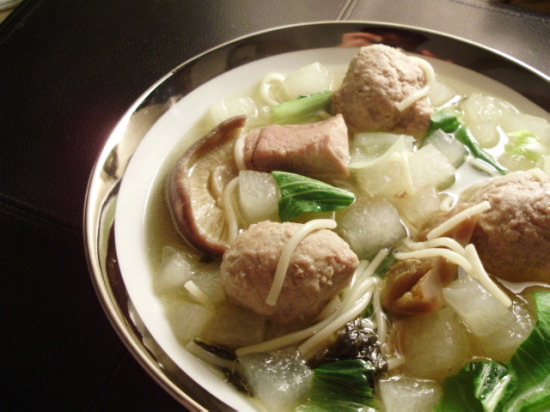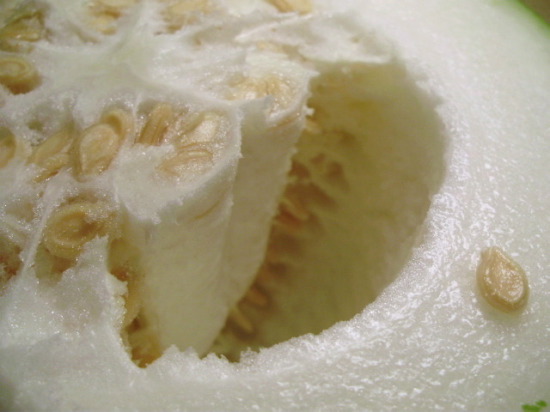 Cross-section of a large winter melon.