Gingerly Gingered Carrot, Leek and Fennel Soup
This hearty root vegetable puree is a perfect winter soup. The absence of cream makes this a versatile menu item. Rich balsamic vinegar and extra virgin olive oil bring out the deep, earthy flavors of the vegetables while fresh lemon juice and fragrant ginger brighten and accent the high notes of this delicious, well-balanced soup.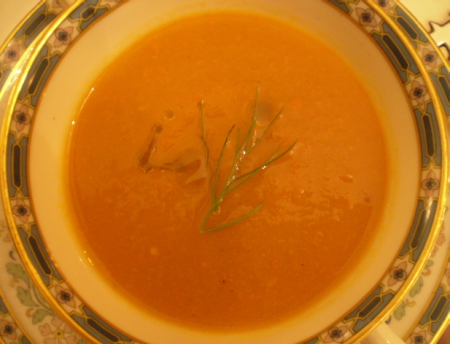 2 tb olive oil
1 bulb fennel, chopped
1 pound leeks, well-rinsed, sliced lengthwise
1 1/2 lbs carrots, chopped
1 tsp fresh minced ginger
7 cups chicken stock, preferably homemade
1 tb balsamic vinegar
1 tsp fresh lemon juice
1 tsp coarse salt
1/2 tsp white pepper
1 tsp brown sugar
4 tb butter
Fennel fronds, for garnish
Very fine extra-virgin olive oil, for garnish
Preheat oven to 425 degrees.
Prepare a shallow roasting pan by lining with aluminum foil and spraying with cooking spray.
In a large bowl, combine olive oil with fennel, leeks, and carrots. Toss to coat. Arrange on roasting pan and cook for 20 minutes, until leeks and fennel are wilted and slightly browned and carrots are fork-tender.
Heat a medium stock pot over medium-high heat. Add roasted vegetables, ginger and stock. Bring to a boil. Reduce heat and simmer, covered, for 30 minutes, until vegetables are very soft.
Remove from heat and allow to cool slightly.
Puree soup, in batches if necessary, and return to stock pot. Bring to a boil over medium heat. Reduce to a simmer and add balsamic vinegar, lemon juice, salt, white pepper, brown sugar, and butter. Simmer ten minutes and check seasonings.
Serve in individual bowls, garnishing each with a fennel frond and a drizzle of fine, extra-virgin olive oil.
Serves 6.