Best Bloody Mary
Refreshing with a Sunday Brunch, the perfect "after party" cure…a Bloody Mary is one of many cocktail staples to have in your repertoire. Don't ever be caught without the key ingredients for a Bloody. You just never know when you need to make one! Or two…

Horseradish, lime and a trio of peppers combine to make a spicy, bracing cocktail. You can adjust the ingredients to your liking, but don't skimp!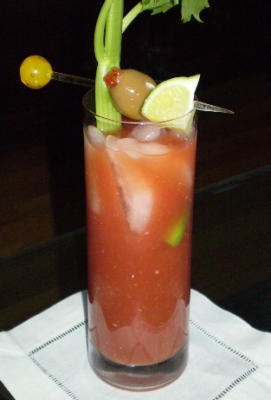 1/2 lime, quartered
1/2 tsp Rose's Lime Juice
1 tsp Lea and Perrins Worcestershire sauce (don't even think about any other brand)
1/2 tsp prepared horseradish
1/2 tsp celery salt
1/4 tsp garlic powder
1/4 tsp onion powder
1/4 tsp white pepper
1/4 tsp cayenne pepper
1/4 tsp black pepper
Dash tabasco sauce
2 oz Tito's vodka (or any other clean-tasting vodka, like Absolut)
6 oz tomato juice
Celery stalk
Large olives, preferably stuffed with sun-dried tomatoes or garlic
Fill a collins glass 3/4 full with ice cubes. Squeeze lime quarter into glass, adding hull. Add remaining ingredients, in order, filling glass to 3/4 inch with tomato juice. Pour contents of glass briskly into larger glass to mix, then pour back into collins glass. Garnish with celery stalk, sun-dried tomato-stuffed olive, and lime wedge. Serve immediately. Repeat as desired.