Spicy Cornish Game Hens
Cornish game hens get a spicy kick from chipotle and cayenne peppers! Lime juice helps tenderize and flavor the birds, while a little of your favorite barbeque sauce adds smoky sweetness. Try this new twist on a traditional bird, or on your next whole chicken!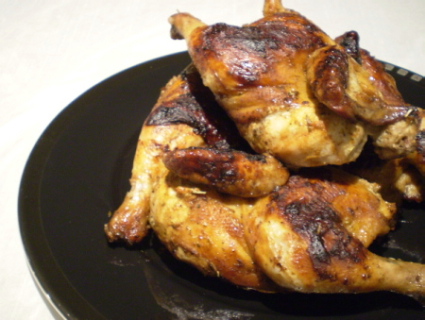 2 cornish hens, halved
1/2 cup olive oil, divided
1 tbls bottled barbeque sauce
1 tbls fresh lime juice
1 tsp Worcestershire sauce
1 tsp soy sauce
1 tbls coarse salt
1 tsp freshly ground black pepper
1 tsp chipotle pepper powder
1/2 tsp cayenne pepper
1 tsp garlic powder
1 tsp onion powder
1/2 tsp dried rosemary
Rinse hens and pat dry. Place in glass dish and drizzle with half the olive oil. Add the barbeque sauce, lime juice, Worcestershire sauce and soy sauce. Turn to coat. Combine remaining ingredients in a small bowl and sprinkle over hens, covering completely. Rub into skin with your hands making sure to coat all sides well. Marinate, refrigerated, for at least 30 minutes, up to overnight.
Thirty minutes before cooking, remove hens from refrigerator.
Preheat oven to 350 degrees.
Heat an oven-proof grill pan or skillet over medium-high heat. Drizzle some of the remaining olive oil to just coat the pan. Grill hens, skin side down, about ten minutes. Adjust temperature so skin browns, but does not burn. Try not to move the hens too much after initial contact with the pan; the skin tends to tear during this time.
After hens are nicely marked on the skin side, carefully turn over, using tongs, adding more olive oil as needed to the pan. Continue to cook about ten minutes more, until hens are just beginning to firm up.
Place skillet, hens and all, in oven and bake for 30-40 minutes, until done. If desired, defat any juices left in the pan and drizzle over hens before serving.