Adobong Manok
I've always wanted to try this classic Filipino dish, of which tons of versions exist. They all involve cooking chicken pieces in a tangy, flavorful combination of vinegar, soy sauce and garlic. This is definitely a recipe that tastes better the next day, as the flavors combine and permeate the chicken. Delicious!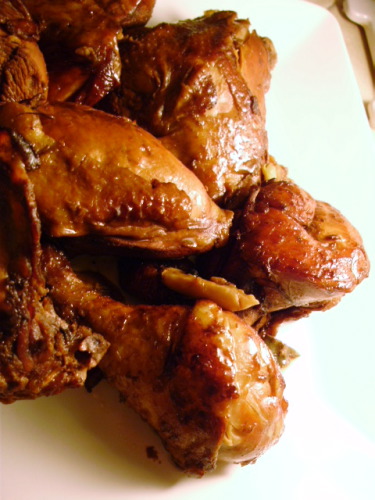 As I perused the many different versions of this traditional chicken dish from the Philippines, one thing became clear: there were as many versions as there were authors! It also seemed to be a very personal dish, as recipes would often be accompanied with little stories about how mom/grandmother/best friend's auntie made it special with a secret little twist or touch.
The main ingredients in a typical adobo are vinegar, soy sauce, garlic, bay leaves and black peppercorns. Quantities and proportions varied wildly, so I settled on a one-to-one ratio of vinegar to soy sauce this first time around. I used half dark soy sauce and half light, in order to cover the spectrum of flavor notes and viscosity. Some recipes called for a little as one clove of garlic, while others included up to three whole heads! I'm a garlic-lover, but to give myself a more moderate baseline, I used ten large cloves. While some versions called for a small amount of ground black pepper, I liked the idea of using an aggressive amount of whole peppercorns, especially against the heady amount of vinegar and soy sauce. I used the most frequent measure of 1 tablespoon. Probably the most controversial ingredient was ginger. Several recipes called for it, but I was surprised at how many comments I found that were vehemently opposed to its use in adobo. I like ginger, and it sounded good in this recipe, so I used it!
Other ingredients found included: onions, mushrooms, pineapple, apricots, lemons, carrots and potatoes. I wanted to keep this simple, so I didn't add any of those – this time!
The cooking methods found varied as much as the ingredients! Some called to marinate, others did not. Some called for browning the chicken and/or garlic before adding the sauce, others had you brown after simmering. Since some sort of double-cooking seemed to be key in developing a layered level of flavors, I decided to broil the chicken while the sauce reduced.
The bottom line? This was an amazingly simple, yet startlingly delicious and complex dish. The flavors bounce all over your mouth – the mellow tartness from the vinegar, the caramel/saltiness of the soy, the herbaceous warmth of the ginger and peppercorns, with back notes of bay and garlic.
Unexpected bonus: THE GIBLETS. If you are a fan of gizzards and livers, then this is the sauce for you. The marination and simmering renders the gizzards to that perfect bite of chewy-tenderness, and the flavor is amazing. I plan on making a bunch of livers soon with this sauce for some killer rumaki!
I see now why there are so many variations of this dish; it simply screams for experimentation and modification. With so many elements of the flavor spectrum present, it will be easy to tip the scales a little more sweet, a little more spicy, all to your liking. I'm already thinking up other versions! Try it yourself…you won't regret it.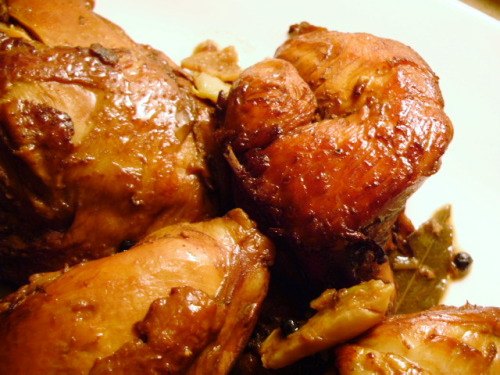 Adobong Manok
4 pounds chicken pieces, cut or hacked into uniform size
Kosher salt
10 large cloves garlic, whole and peeled
1 piece (1″ size) ginger root, peeled and sliced into coins
1 tb black peppercorns
3 bay leaves
1/2 cup rice vinegar
1/4 cup dark soy sauce
1/4 cup light soy sauce
1 ts brown sugar
1/2 cup water
Rinse chicken pieces and pat dry. Place in large, nonreactive dish, and sprinkle liberally with salt. Distribute garlic, ginger, peppercorns and bay leaves in and around chicken. Set aside for 15 minutes. In a bowl, combine vinegar, soy sauces, and sugar. Pour over chicken. Turn to coat well, cover, and refrigerate for at least one hour, up to overnight.
Remove dish from refrigerator and allow to sit at room temperature about 30 minutes. Place everything in a large pot or dutch oven, add water, and bring to a simmer over medium-high heat. Simmer, slightly covered, about 15 minutes.
Preheat broiler. Line a shallow jellyroll pan with foil and spray with cooking spray.
Carefully remove chicken pieces from cooking liquid, allowing as much liquid as possible to drain back into pot. Arrange on foil and broil, watching carefully, turning to brown evenly (about ten minutes per side).
While chicken broils, bring cooking liquid to a boil and reduce slightly.
When chicken is browned, remove from oven and return to pot, turning carefully to coat with sauce. Simmer on low heat for about 10-15 minutes.
Serve chicken with sauce and white rice and a steamed fresh vegetable.