Adobong Baboy (Pork in Tangy Sauce)
After enjoying the flavors of Adobong Manok [November 16, 2008], I was eager to try the marinade/cooking liquid on other meats. My old favorite, the pork butt, did not disappoint!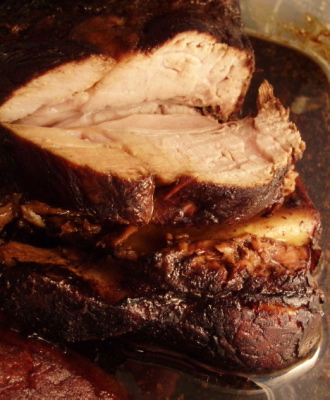 While the chicken version of this dish utilized smaller pieces of chicken, simmered, then broiled in the oven before being returned to the cooking liquid, I wanted to use a big pork butt. Since such a cut calls for low, slow cooking, I thought it would be the perfect way to impart the flavors of the cooking liquid into the meat.
I had a ten pound butt. That's a big piece of meat! To make handling a little easier, I decided to cut the roast in half, yielding a bone-in and a boneless cut. I salted the surface of the roast liberally with kosher salt, let stand, then marinated it overnight. Since I wanted a little sear, especially on the fat side, I blotted the surface dry and browned each piece in vegetable oil in a large dutch oven. I removed each roast to a separate crock pot, then added the cooking liquid to the dutch oven, deglazing the bottom, boiling, and simmering the marinade for about 20 minutes.
I divided the liquid between the two crock pots and cooked on low for about six hours, turning the roast once during that time. The amount of time was perfect for these two roasts, in these two more modern, thus "hotter" crock pots. I have been dismayed to find meats cooked to death in the newer crock pots, which have been updated with higher "low" temperatures. While some embrace the "falling apart" texture of long crocked meats, I find the meat dry and lacking in natural flavor.
This meat was tender, but still firm enough to cut into slices. The outer fat had been rendered to a delicious gelatinous state, and the fat streaks running through the meat kept it moist. The cooking liquid had reduced slightly, and the flavors, combined with the natural meat juices, had evolved into a wonderful, mellow sauce. I strained the liquid and served it with the sliced meat.
This was really fabulous! The strength of the marinade was perfect for the size and cooking time of this large cut of meat, and the flavors were well-matched to pork. The flavors continued to develop the next day, and after.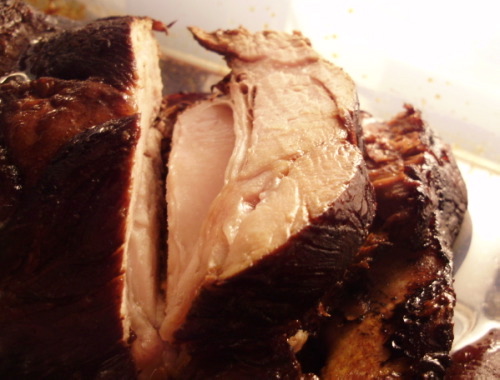 The quantities below are approximations of what was used for a ten pound pork butt. The ingredients are forgiving; develop your own version!
20 cloves garlic, crushed and peeled, left whole
1 2″ piece of ginger, sliced into coins
2 tb whole black peppercorns
6 bay leaves
1 cup rice vinegar
1/2 cup balsamic vinegar
3/4 cup dark soy sauce
3/4 cup light soy sauce
2 ts brown sugar