Barbeque Pork Roast
Moist and delicious, bone-in roasts can deliver a lot of bang for your buck. Cooking meat on the bone makes it more tender, and a brief marinade with a balsamic vinaigrette tenderizes it even more. Allowing about 20 minutes per pound, I cook the roast 2/3 of the time over indirect coals, then remove the roast to finish in the oven, where it "steams" under foil to keep it moist and juicy.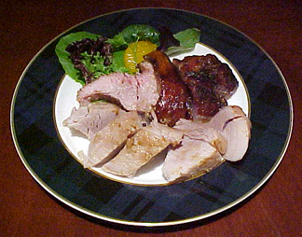 8-9 lb pork picnic, blade or shoulder roast
1/4 cup olive oil
1/4 cup balsamic vinegar
2 tbl soy sauce
2 tbl worcestershire sauce
Coarse salt
Freshly ground black pepper
Garlic powder
Onion powder
Prepare charcoal grill for indirect heat, pushing glowing coals to the sides of the grill.
Season roast liberally with salt, pepper, garlic and onion powders. Combine olive oil, balsamic vinegar, soy and worcestershire sauces in a bowl. Pour over roast and rub into meat, making sure to cover all surfaces. Let roast marinate for thirty minutes at room temperature (longer in the refrigerator). Place a roasting rack into a shallow disposable baking pan (helps with cleanup). Spray well with non-stick cooking spray. Place roast on rack, and set the pan on top of the grill. Cover and cook, adjusting vents to maintain a steady, medium heat. Check coals after one hour, adding fresh charcoal if necessary. Roast should be browned but not too dark. Continue cooking for about one hour more. Check internal temperature with a meat thermometer; reading should be about 155 degrees. (The roast is essentially "cooked" at this point; the remaining time in the oven helps ensure a moist and tender roast.)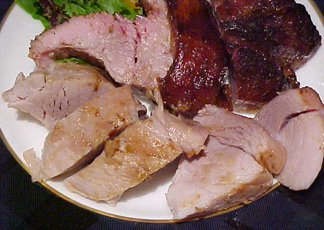 Preheat oven to 350 degrees. Remove roast, rack and all, from grill. Pour 1 cup of hot water into bottom of pan and cover roast with foil. Bake for one hour. Roast should be tender and pulling away from the bone, but still moist. Transfer roast to a cutting board or pan. Let sit at least twenty minutes before slicing.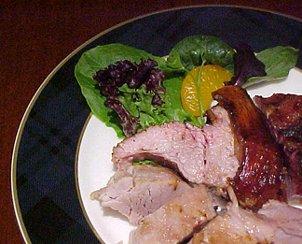 Slicing tips: Remove large "hunks" of meat from the bone, then cut into smaller pieces or slice against the grain, instead of trying to slice meat directly off the bone.