Mmmm…Meatloaf!
I'm not a big fan of tomato sauce on meatloaf. This recipe makes such a moist and flavorful loaf, you won't miss the sauce at all!

And I don't know why it looks like Banana Nut Bread. It's not. (I need a new photographer)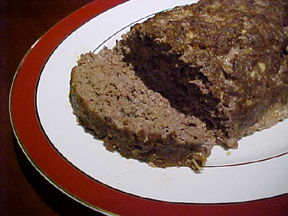 Mmmm…Meatloaf!
3 lbs ground beef
3 eggs
1/2 cup plain bread crumbs
1/4 cup catsup
1 tbl prepared mustard
1 tbl worcestershire sauce
1 tbl balsamic vinegar
1/4 cup minced onion
3 cloves garlic, run through a press
1 tsp dried oregano
1 tsp dried thyme
2 tsp salt
1 tsp freshly ground black pepper
1/2 tsp brown sugar
Preheat oven to 350. Prepare baking sheet by lining with foil and spraying with non stick cooking spray. Combine all ingredients, mixing gently into ground beef.

Do not overwork! Shape into loaf and place on foil lined pan.

Bake for one hour. Let cool for ten minutes before removing to serving platter. Slice and serve.