Mediterranean Layered Torte
Rich, creamy and delicious, this layered cheese torte will be the hit of your next party. Salty olives and sun-dried tomato pesto strike a balance with soothing hummus. Pine nuts add texture, while fresh basil and parsley add bright, lively notes to the decadent mixture of feta, goat and cream cheeses. Serve with toasted baguette slices or crackers.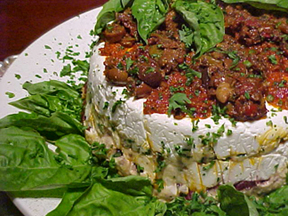 2 8 oz packages cream cheese, softened
11 oz goat cheese, softened
6 oz feta cheese, softened
4 tbl unsalted butter, softened
8 oz hummus
6 oz prepared sun-dried tomato pesto
6 oz Kalamata olives, coarsely chopped
3 tbl toasted pine nuts
1 tbl chopped fresh basil
1 tbl chopped fresh flat-leaf parsley
In a food processor, combine butter with 2 tbl of the pine nuts. Blend until smooth. Set aside. Combine cream, goat and feta cheeses in food processor. Blend until well combined. Set aside.
Prepare a 48 oz ramekin or similar-sized container by lining with layers of plastic wrap to cover. Be sure to press out any air between the plastic and the container to ensure a nicely-shaped product.
Layer ingredients as follows:
1/3 cheese mixture, 4 oz hummus, 4 oz sun-dried tomato pesto, 1/3 cheese mixture, pine nut butter, remaining pine nuts, 4 oz chopped olives, basil, parsley, 4 oz hummus, 1/3 cheese mixture. Tap ramekin on counter to remove any air pockets. Cover with plastic wrap, pressing down to seal, and refrigerate overnight.
To unmold, remove top layer of plastic wrap and invert onto serving platter. Bump gently on counter to dislodge torte. Remove ramekin and plastic wrap. Garnish top of torte with remaining pesto, chopped olives and basil leaves, if desired.