Sausage-Stuffed Chicken Marinara with Linguini
Plump and juicy, delicious Italian sausage adds a tasty punch to these boneless chicken breasts. Vary the level of spiciness by adding more ground pork or beef, or by simply buying a milder sausage. Complete this meal with crusty bread and a Caesar salad!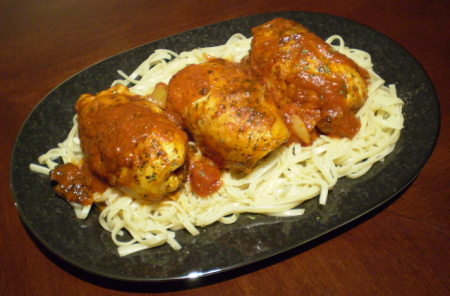 6 boneless skinless chicken breasts, slightly pounded to even thickness
½ lb spicy Italian sausage
½ lb ground beef or pork
1 jar marinara sauce (Newman's Own preferred)
½ cup yellow onion, sliced
3 cloves garlic, mashed
Coarse salt
Freshly ground pepper
Garlic powder
Olive oil
2 bay leaves
1 lb dry linguini
Chopped parsley
In a small bowl, gently combine sausage and ground meat. Set aside. Lay chicken breasts out on work surface. Drizzle lightly with olive oil. Shape approx 3 tbl sausage mixture in a log shape and place on the wide end of each chicken breast. Roll up and secure with toothpicks. Repeat with remaining breasts, reserving any remaining meat mixture. Place breasts on a large plate and season with salt, pepper and garlic powder. Heat a large skillet or dutch oven over medium high heat. Add about 2 tbl olive oil and heat until just smoking. Add chicken breasts, turning to brown evenly, about ten minutes total.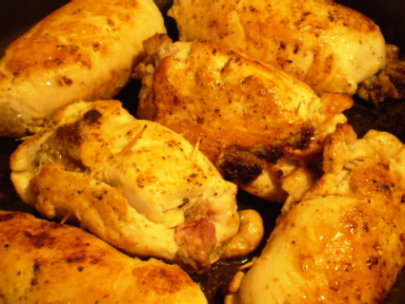 Preheat oven to 325. Add onions, garlic, bay leaves and any remaining sausage mixture alongside chicken in dutch oven and cook, stirring gently. When onions become slightly translucent, add marinara sauce. Bring to a boil, cover and bake in oven for 45 minutes.
Meanwhile, cook linguini according to package directions. Drain and toss with parsley. Place on serving platter and serve with chicken.