Chicken Cacciatore
This tasty and colorful Italian dish benefits from gentle stewing – the delicious juices from the chicken impart the sauce with natural goodness. For this reason, plain, unseasoned tomato puree is in order, to produce a pure, fresh-tasting sauce that will accent both the chicken and your favorite pasta. Browning the tomato paste is key in order to produce a rich tomato gravy, devoid of that "tinny" canned taste.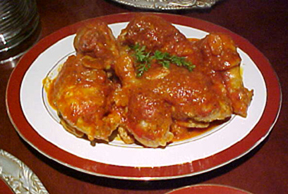 l]
4 lbs. chicken pieces (any combination of legs, drumsticks, thighs, or breasts)
1 cup unseasoned bread crumbs
4 cloves garlic, mashed
1 small onion, sliced
1/2 cup carrot, cut into rounds
1 cup fresh mushrooms, halved
1/4 tsp red pepper flakes (optional)
1 bay leaf
1 tsp dried oregano
1/2 tsp dried basil
1/2 tsp dried thyme
1 tsp brown sugar
2 tbl tomato paste
24 oz. unseasoned tomato puree
Olive oil
Coarse salt
Freshly ground black pepper
Garlic powder
Preheat oven to 350. Drizzle chicken pieces with about 1/4 olive oil. Season chicken pieces with salt, pepper, and garlic powder. Toss to coat. Dredge in bread crumbs and set aside. Heat 2 tbl olive oil over medium heat in large dutch oven and brown chicken well all over, working in batches if necessary. Remove chicken pieces to warm oven.
Remove all but 2 tbl oil from pot. Add onion, garlic, carrot, mushrooms, red pepper flakes, and bay leaf. Sprinkle with brown sugar, a pinch of salt, and pepper. Saute until onion becomes translucent and garlic is fragrant, about one minute. Add tomato paste. Stir to combine and cook, until vegetables are coated and tomato paste is slightly browned, about one minute more. Add tomato puree, oregano, basil and thyme. Stir well and add chicken pieces back to pot. Cover and bake for 30 minutes at 350. Check seasonings and bake for 30 minutes more at 325. Serve at once with pasta and crusty bread. Serves 4.