Pork and Edamame Stir Fry
Small, tender, green soybeans, better known as edamame, are full of flavor, rich in protein, and low in fat. Delicious as a snack on their own, they are a natural addition to main dishes. This stir fry combines tender pork with the hearty beans in a flavorful sauce, peppered with garlic, ginger and onion. A quick and easy dish, too!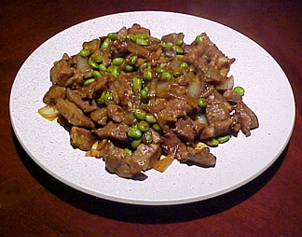 2 lbs pork country style ribs, cut into 1″ pieces
1/2 lb shelled edamame
1 small onion, sliced
2 cloves garlic, chopped
1 tsp minced fresh ginger
2 tbl oyster sauce
1 tsp light soy sauce
2 tsp dark soy sauce
Coarse salt
White pepper
1 tbl vegetable oil
1 tsp cornstarch
1 tsp cornstarch dissolved in 1/2 cup warm water
Season pork pieces with salt and pepper. Sprinkle with 1 tsp light soy sauce. Toss to combine. Add 1 tsp cornstarch. Toss to coat. Set aside.
In a wok or other large vessel, heat vegetable oil over high heat. Add pork and brown well all over, about two minutes. Remove from wok. Add onion, garlic, and ginger to wok. Stir fry about one minute, or until garlic and onion begin to become fragrant. Season with a little salt and pepper. Add edamame and pork to wok and toss to combine. Add oyster sauce and dark soy sauce. Stir fry about one minute. Add cornstarch slurry and stir until thickened, about one minute more. Add a little hot water if it is too thick. Check seasonings and remove to serving platter. Serve immediately with steamed rice.