Lovely Lobster Salad
There are few things more luxurious than fresh, steamed lobster. With only a few ingredients, lobster meat can be transformed into a delicious salad!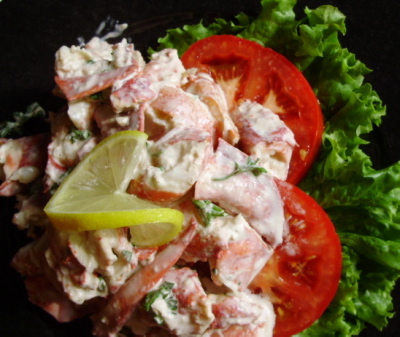 Faced with an abundance of lobster meat after Christmas day (I know, a horrible situation), I decided to whip up a quick lobster salad. Simplicity was the key, as I did not want to take away from any of the lobster's naturally sweet goodness.

I didn't measure. I just cracked open the six big claws I had and cut the meat into bite-sized pieces. I made sure to get all the knuckle meat, as well as the long, slender piece from the smaller portion of the claw. I squeezed a fresh lemon half over the meat, and seasoned with freshly cracked pepper and coarse salt. Tossed. Then I added a dollop of good mayonnaise and some horseradish for a little bite. Freshly chopped parsley added the perfect fresh, herbaceous note, without being overpowering. A dash or two of Texas Pete Hot Sauce, and I was set!
I'm not a fan of lobster "rolls" or other sandwiches. To me, the bread just gets in the way, not to mention "squishing" the contents. Nope, this was going to be all about the lobster!
Some fresh, vine-ripened tomatoes and leaf lettuce was all I needed to finish off the plate. A glass of Ferrari-Carano Fume Blanc completed my delicious, decadent post-Holiday lunch!
You should try it sometime. I highly recommend it!