Lotus' Deviled Eggs
Looking for a way to use up all those boiled Easter eggs? Here's a tasty twist on an old favorite. Pecans and olives add fresh texture and flavor, while mayo, mustard and paprika bring this recipe right back home. If you have any filling leftover after mounding it into those wonderful whites, put it on some toasted bread for a terrific sandwich!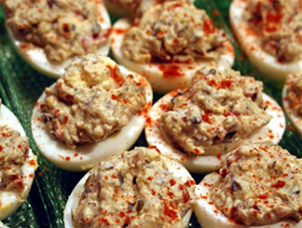 1 dozen boiled eggs, halved and separated
1/2 cup finely chopped canned black olives
1/4 cup finely chopped white onion
1/2 cup finely chopped pecans
1/2 cup chopped Mrs. Fanning's Bread and Butter Pickles (no other brand will do)
3 tbl chopped pimiento
3/4 cup real mayonnaise
2 tsp prepared mustard
Table salt and freshly ground pepper to taste
Paprika
Place halved egg whites on platter. Mash yolks in a medium bowl and add all other ingredients except paprika. Mix well. Spoon a generous teaspoonful of filling into egg whites. Sprinkle with paprika and serve.