Chinese Meat Loaf with Salted Egg
Minced pork, earthy shiitake mushrooms, and crunchy waterchestnuts combine to create a delicious Chinese classic. The mixture is given the royal treatment by being topped off with a rich, salted egg, steamed to perfection.

Chinese Meat Loaf with Salted EggChinese Meat Loaf, or "Gnook Beoung," has been a family favorite for decades. Legend has it that when I was a kid, I ate so much of mom's meat loaf with steamed rice that I gave myself heartburn! Of course, I had no idea what heartburn was, and I thought I was having a heart attack! Dad assured me that I was not having a heart attack, and took care of the situation by taking me on a nice walk around the block. We had a nice chat, the pain subsided, and I went to bed, still thinking about that meat loaf. Was it worth it? It sure was!Mom's version would change from time to time, but the main ingredient would always be pounded or minced pork. My favorite method (learned from mom) is to hand pound some nice pork butt, making sure to include a little of the fat. The blunt side of a cleaver works well, as does a meat tenderizer. The meat is not so much chopped or minced, but rather tenderized until it falls into uneven "rags." The result is a smooth, tender texture, still maintaining a meatiness that is different from a ground or chopped meat. It's time consuming, and ground pork works fine, but do yourself a favor and process it by hand.The shiitake mushrooms add a nice earthy, rich flavor, as well as a firm texture element. Chopped waterchestnuts add some crunch, and the lop cheong (Chinese sausage) brings sweetness and another fatty component to the mix.If you've never had salted egg, it may seem odd to you. But it is one of those simple and sublime ingredients that make sense, once you understand the concept of the whole "salt-preserved" tradition, handed down for generations. Like many cultures, the Chinese salted and cured perishables in the days before refrigeration. Eggs were no different. To make salted eggs, eggs are submerged in a salt brine for at least 30 days (but not much more) at room temperature. The salt permeates the entire egg, essentially "curing" the yolk. The result is a beautifully translucent, amber-colored yolk. When cooked, the texture and flavor of the egg is unique, salty, yet addictive in its richness. Like many of the salt-preserved foods of the day, the salted eggs were intended to "stretch" many a peasant meal, with the saltiness encouraging the diners to consume a great deal more rice than protein. Today, salted eggs are still around, as much a delicacy as a tribute to our peasant roots.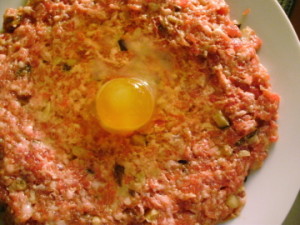 1 lb chopped, minced, or ground pork
1 scallion, chopped
2 medium dried shiitake mushrooms, rehydrated and chopped (stems removed)
1/4 lb lop cheong, coarsely chopped
1/4 c crushed and chopped waterchestnuts
1/2 ts salt
1/4 ts white pepper
1/4 c oyster sauce
2 tb toasted sesame oil
1 tb dry sherry or white wine
1 tb plus 1 ts cornstarch
1 salted chicken egg, raw
Prepare stovetop steamer, or use a wok or other large pot with a domed lid. Fit with a steamer insert, adding water to just below the insert. Bring water to a gentle boil over medium heat.In a large mixing bowl, combine all ingredients except cornstarch and egg. Mix well with your hands, making sure all items are evenly distributed, but do not over work. Add 1 tablespoon cornstarch and combine. Mixture should be moist, but dry enough to slightly pull away from sides of bowl. Add additional cornstarch if necessary.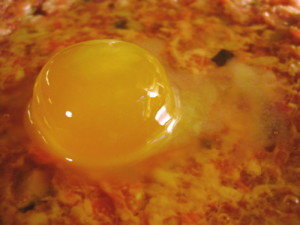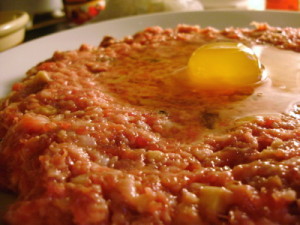 Pat mixture into shallow, heat proof dish. Make a slight well in the center of mixture. Crack salted egg into a dish, then gently slip egg on top of meat mixture. Carefully place dish into steamer and steam on medium-high heat for 45 minutes. Remove from steamer, let cool slightly, slice and serve.