Chicken Marbella
A classic recipe, new to me! I generally don't like fruit with savory dishes, but this was a delicious surprise! The olives and prunes compliment each other beautifully and create a flavorful marinade and sauce. A dash of red pepper rounds out the flavor spectrum.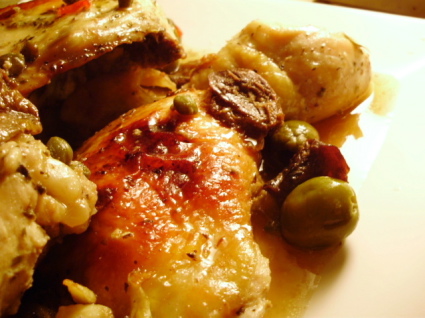 Chicken Marbella
1 cup dried pitted prunes
1 cup pitted green olives
2 tb capers, drained
6 cloves garlic, chopped
4 bay leaves
2 tb dried oregano
1/4 ts dried red pepper flakes
1/4 cup olive oil
1/4 cup red wine vinegar
4 lbs bone-in chicken pieces
coarse salt
freshly ground pepper
1/4 cup brown sugar
1/2 cup dry white wine
In a shallow glass dish or resealable plastic bag, combine first nine ingredients. Season chicken pieces liberally with salt and pepper. Add chicken to marinade, turning well to coat. Marinate, covered in refrigerator for several hours or overnight.
Preheat oven to 400 degrees. Prepare a baking dish with non-stick cooking spray.
Place chicken pieces in baking dish. Pour marinade over chicken. Sprinkle with brown sugar and pour white wine into dish.
Bake for one hour, basting occasionally. Remove chicken pieces to serving platter. Defat juices if necessary, and pour over chicken. Arrange prunes and olives around chicken.