Braised Baby Bok Choy
Baby bok choy is a compact version of the long, slender bunches commonly found in Chinese cuisine. Mild in flavor, they are delicious prepared in a variety of ways, but I like it most often as a refreshing, crisp contrast to spicy, highly seasoned main dishes, such as soy sauce roasted chicken.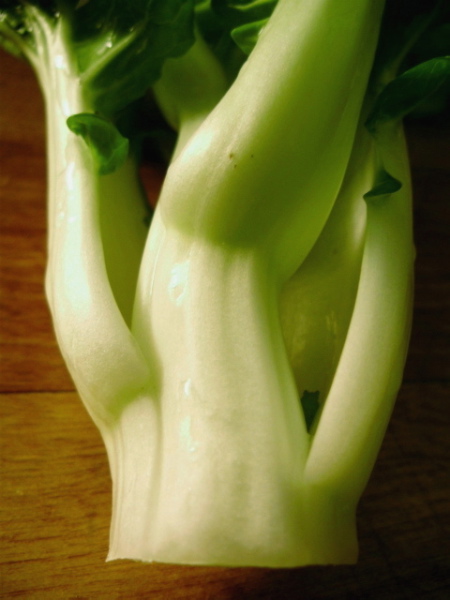 Braised Baby Bok Choy
Bok choy is delicate and mild in flavor, and lends itself to many aromatic seasonings. Adjust to your tastes, but do not overcook. Be sure to also soak and rinse them well; grit accumulates in the tight bases of the stalks.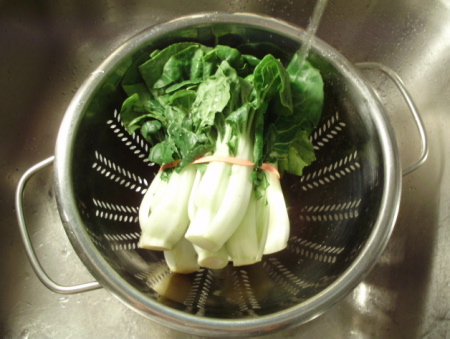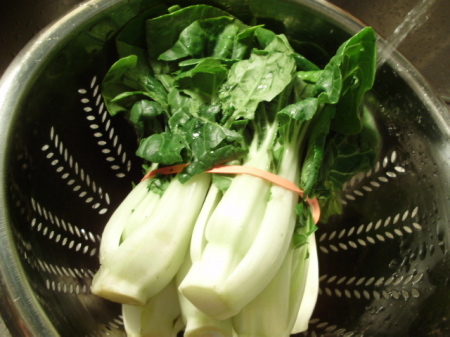 1 lb baby bok choy
1 tb grapeseed or vegetable oil
1/4 cup sliced onion
2 slices fresh ginger (1/4″ thick)
2 cloves garlic, smashed
1/2 cup chicken broth or water
1 tb light soy sauce
1 ts toasted sesame oil
1/2 ts salt
1/4 ts white pepper
1 pinch brown sugar
Trim bases of bok choy bunches; cut in half. Soak halves in cold water 10-15 minutes. Drain, rinse, repeat until no traces of grit are found in the bottom of stalks. Set aside.
In a wok or large skillet, heat oil over medium-high heat. Add onion, ginger and garlic; cook for 30 seconds, stirring constantly, until slightly fragrant. Add broth or water, bring to a simmer. Add soy sauce, sesame oil, salt, pepper and sugar. Stir. Add bok choy and cover. Braise gently over medium heat, until just tender, about five minutes. Remove immediately from liquid to serving dish. Check liquid for seasoning and correct, if necessary. Spoon liquid over bok coy and serve.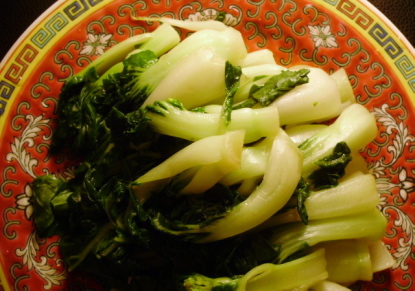 For Chinese Roasted Chicken, see this post.