Seared Salmon Steaks with Sesame Ginger Bok Choy
Deliciously moist, fresh salmon steaks are served with a light but vibrantly flavored sauce spiked with fresh garlic and ginger. Sesame oil and ponzu sauce complement the meaty fish with an Asian flair, and crisp, hearty baby bok choy provides the perfect flavor and textural balance to this meal.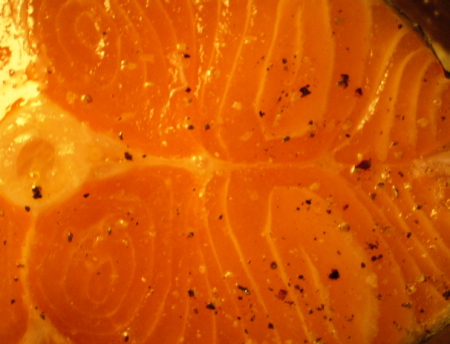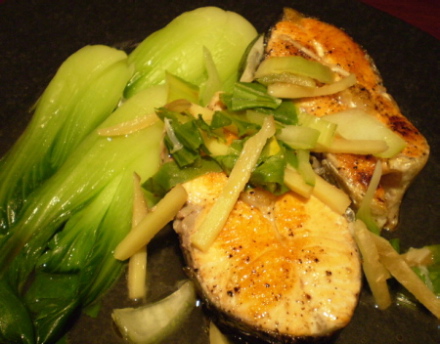 2 cups chicken stock
3 inch piece of fresh ginger, julienned
3 cloves garlic, mashed
2 heads baby bok choy
2 cross-cut salmon steaks, about 1 lb
White pepper
Freshly ground black pepper
Sea salt
Olive oil
Toasted sesame oil
Ponzu sauce
Bring chicken stock to a boil in a medium saucepan. Add ginger, garlic, pinch of white pepper, pinch of salt, 1/2 tsp sesame oil and 1/2 tsp ponzu sauce. Simmer, covered for fifteen minutes.
Cut bok choy into halves. Rinse thoroughly, and soak, cut side down, in a bowl of cold water.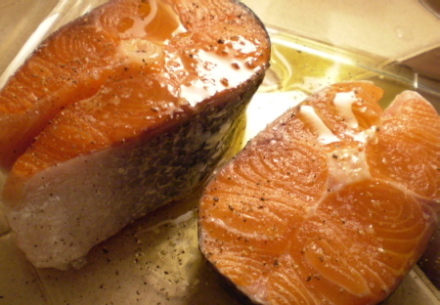 Wipe salmon steaks dry. Drizzle with 1 tbl olive oil. Season with salt and black pepper on both sides.
Add bok choy to simmering stock. Cover and simmer until done, about 5 minutes. Remove from stock and cover. Continue simmering stock, uncovered, to reduce slightly.
Heat a skillet (preferably cast iron) to medium high. Add salmon, searing about 3-4 minutes per side until salmon segments are just pulling away from the bone. Do not overcook.
Arrange bok choy on serving platter. Top with seared salmon. Spoon stock mixture over all. Drizzle with additional 1/2 tsp sesame oil and 1/2 tsp ponzu sauce. Serve immediately.