Miso Roasted Chicken
The rich sweetness of miso and soy sauce combine for a savory delight. The sugars in the sauce create a delicious caramelized skin, and the fresh ginger adds bright pops of robust flavor.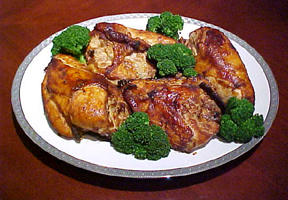 Miso Roasted Chicken
4 lbs chicken pieces
1 tbl vegetable oil
2 tbl dark soy sauce
2 tbl fermented miso paste
1 tsp five spice powder
1 tsp coarse salt
1/2 tsp white pepper
1/2 tsp black pepper
2 cloves garlic, minced
2 tsp fresh ginger, minced
Preheat oven to 375. Season chicken with salt and peppers. Mix oil, soy sauce, miso, five spice powder, garlic and ginger into a paste. Spread evenly over chicken pieces, working some under the skin. Marinate for one hour in refrigerator (or overnight). Prepare broiling pan by spraying with nonstick cooking spray and lining drip pan with foil for easier cleanup. Bake for 45 minutes, covering chicken with foil if it browns too quickly. Turn oven off and let chicken rest, with oven door closed, for fifteen more minutes. Serve with steamed rice or noodles.