Savory Pot Roasted Beef
Moist and flavorful, this roast will become a regular in your recipe rotation. Adding the garlic and onion toward the end of the cooking time ensures their flavor does not "cook out" over the long braising time. Mash the garlic and onion on top of the roast before slicing to enjoy their sweet, mellow goodness in every bite. Leftovers make wonderful sandwiches, too!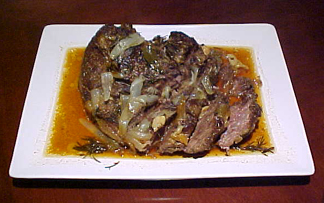 3-4 lbs boneless beef Chuck roast
Olive oil
1 small onion, quartered
5 cloves garlic, mashed, but not chopped
2 bay leaves
1/2 cup dry red wine
1 tsp Worcestershire sauce
1 tsp soy sauce
1/2 cup hot water
pinch of brown sugar
Coarse salt
Freshly ground pepper
Garlic powder
1 tsp dried oregano
1 tsp dried thyme
1/2 tsp dried rosemary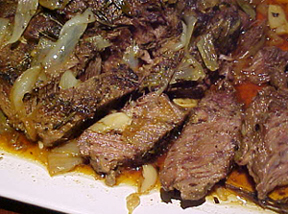 Season roast liberally with salt, pepper and garlic powder. Drizzle with about 1 tbl olive oil and rub seasoning into meat. Preheat oven to 325. Heat a medium dutch oven over medium heat. Add 2 tbl olive oil and brown roast well on all sides. Add bay leaves to pot. Mix wine, Worcestershire and soy sauce with hot water and pour over roast. Cover tightly and bake for 1 1/2 hours.
Remove lid and add garlic, onion, herbs, brown sugar, and another sprinkling of salt and pepper. Cover and continue cooking for 30-45 minutes, until garlic and onions become fragrant and tender.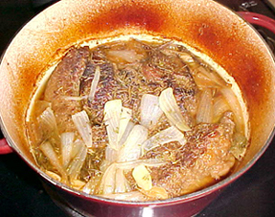 Remove roast from pot and skim fat from pan juices. Correct seasonings if needed. Slice roast and serve with juices, onions and garlic from pot.