Pork Loin Two Ways
Whole Boneless Pork Loin – $1.99/lb. How could I pass this up?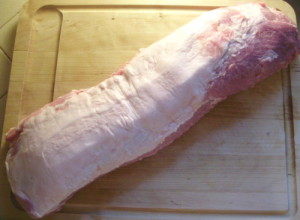 Faced with this eleven-pound beauty, I knew I had so many options. I love finding bargains like this, and wanted to make this purchase worth my while. I decided to cut it into three roasts, and cook one for dinner.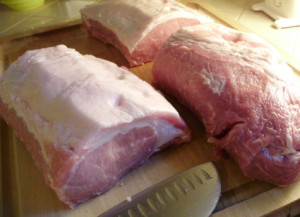 I liberally seasoned it with olive oil, balsamic vinegar, garlic, salt, pepper, paprika, then set it atop a bed of onions and garlic. I roasted it for an hour and a half at 325º. Delicious!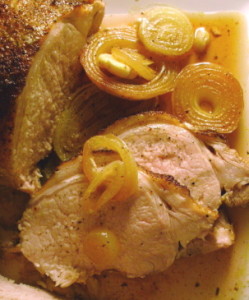 After feeding the two of us, I had quite a bit left. Never one to waste food, and always looking for ways to spruce up leftovers, I came up with a spicy way to pork up dinner a second night!
I cubed up a nice chuck of the roast, then seasoned with salt, pepper, cumin and oregano. In a skillet, I heated up some olive oil and sweated onions, garlic, some bay leaves, then tossed the pork cubes around to heat through.
Meanwhile, I mixed some good mayonnaise with chopped chipotle in adobo, fresh lime juice, salt and pepper, to make a spread. I chopped up some tomato and cilantro for garnish.
Dinner was made by spreading the chipotle mayonnaise on heated tortillas, spooning the retooled pork on top, then adding some cilantro, lettuce and tomato. Rice and black beans finished the plate. Yum.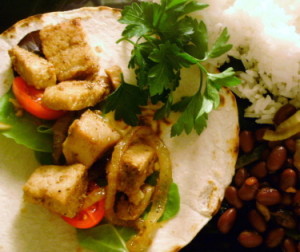 Quite a bargain to begin with, but for a $6 piece of meat, the value was made even more tasty by morphing the leftovers into a totally different meal.
Can't wait to use the rest of it. The other two pieces can be turned into another roast, cut into chops and grilled, sliced to make Chinese Char Shiu, cubed for stew or carnitas. The possibilities are endless!